Confident Christianity (Special Packs)
<< back to bookstore frontpage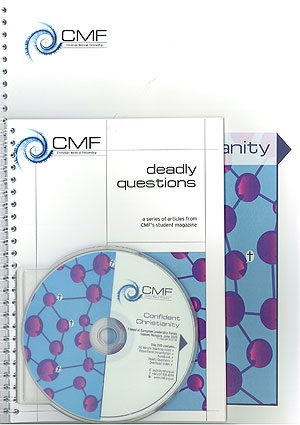 Order Ref: Con0610p
Published by: CMF (2006)
Price: £7.00 (RSP: £10.00, save £3.00)
'Confident Christianity' became the title for CMF's training programme in 'dialogue evangelism' for medical students and doctors, and thousands have now been trained through it over the years. The pack contains the training manual as used in a day conference; a DVD featuring all the printed material, a PowerPoint presentation, and a 90' video of the programme in action; and a booklet discussing the 'Deadly Questions':

*Is Christ the only way to God?
*Isn't the Bible full of errors?
*Isn't Christian experience only psychological?
*How can miracles be possible?
*What about those who have never heard the gospel?
*Why suffering?
*Won't a good moral life get me to heaven?

There is no primary reference to medicine and the material stands on its own as an introduction to engaging in dialogue about Christianity.

All orders are subject to availability