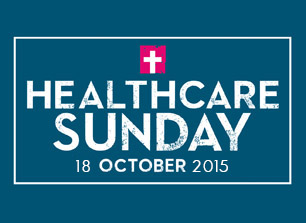 Healthcare Sunday 2015 is 18 October.
Resources for your church:
What is CMF? (downloadable powerpoint presentation)
Sermon ideas
Responsive prayer
Statistics
Plays
Poems
Other resources




Healthcare Sunday is an opportunity for your church to acknowledge and affirm the doctors, healthcare students, lecturers, academics and trainers in your congregation and local community, as well as volunteers, carers and others involved in healthcare. It's also an opportunity to pray for our health service and become better informed about healthcare issues.
Most churches have at least one member who works in the NHS. It employs 1.7 million people in England, Wales, Scotland and Northern Ireland. That's 4% of the entire UK workforce, one in every 25 working people.
Much of the work, worship and teaching of the church has a healthcare dimension: questions about the start and end of life, pastoral care for elderly folk, the need to be informed about public health issues like smoking, drugs and alcohol abuse.
Introduction to CMF
There is a lot that doctors and other healthcare workers can do in support of churches, and in turn churches need to support them.
Use the video above to find out about the challenges doctors face and how you and your church can support medics throughout the year.
Or
download our powerpoint presentation entitled What is CMF?
Watch online or right-click to download(39Mb)
Medical mission - transforming lives in Nepal
Christian medics, working around the world with mission and secular agencies, also value our prayers. Use this video on Healthcare Sunday to show God's grace, mercy and provision through medical work in Nepal.
Watch online or right click to download (27Mb)
About Healthcare Sunday
Healthcare Sunday was set up over a decade ago as a way to help churches engage with health and medicine. For one Sunday every year we pray for, encourage and support those in the Church who work in healthcare, and remember all those working in local health institutions.
Healthcare Sunday is marked in different ways by different churches. In Wellingborough, Northants, Hope Church celebrates Healthcare Sunday, doing something different each year, which will involve the whole congregation, such as praying about healthcare issues in small groups during the Sunday service.
In Kettering, a Prayer House has opened opposite Kettering Hospital. As well as marking Healthcare Sunday, people gather at various times to pray for our country, churches and healthcare situations.
Healthcare through the year
The year is full of days-for-this and weeks-for-that but Healthcare Sunday can last all year! Perhaps your Church could have regular (small) reminders of what is going on and who is involved. e.g.
Identify the major health related sites within 1-2 miles of your church and pray for them in turn through the year, using anyone in the congregation who works there as a focal point.
Hold 6 short interviews during the year with people involved in healthcare; find out their issues and pray for them during the service.
Encourage members of your congregation to 'adopt' a healthcare worker and find ways to encourage them in their work. Just taking an interest will make a difference.