Preparing for your medical elective
<< back to bookstore frontpage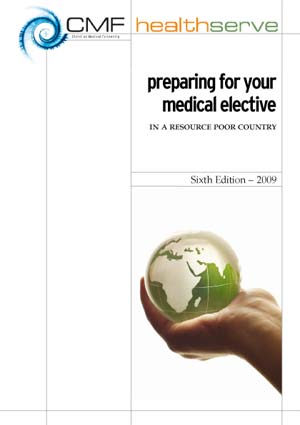 Order Ref: Pre0901
Published by: CMF (2009)
Price: £0.00
This booklet has been prepared by the Christian Medical Fellowship (CMF), in order to assist you in preparing for an overseas medical elective. CMF has some 900 student members and has assisted many who have taken an elective placement in a resource poor country. This booklet is a summation of advice given and lessons learnt by those students who have reported back to us.
So if you have questions about the why, where, when and how you should go, or about the practicalities of travel, immunisations, visas and life in another culture - this booklet is a good place to start. It may not answer all your questions but we can probably put you in touch with someone who has those answers.
This book is free of charge. However, if you would like to order multiple copies we may ask you to pay postage costs. Please email cmf publications with your requirements and contact details and we will arrange delivery.
All orders are subject to availability