developing health - developing health course
healthcare in resource-poor settings for doctors, nurses, midwives and therapists
30 June - 12 July 2013: Oak Hill College , London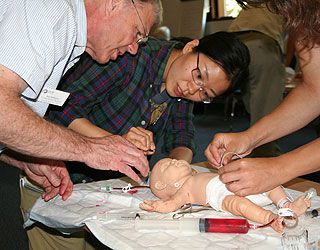 Two week course on healthcare in resource-poor settings
Update for those already working overseas
Preparation for those preparing to go
Lectures, practical skills workshops, tutorials
Daily Bible teaching, prayer and reflection
Fees for the course cover accommodation and meals.
Most participants are resident for the fortnight but attending for one week or for Special Interest Days is also welcomed.
Week 1 includes paediatrics, tropical and general medicine, HIV, community medicine and cross-cultural care.
Week 2 includes trauma, orthopaedics, surgery and maternal health.
See this year's programme and course fees
Video about the course
Developing Health blog
Read the blog from the 2012 course here.

course directors
Dr Vicky Lavy MB BChir MRCGP DCH DRCOG DTM&H - course organiser
Head of International Ministries, CMF
Mary Hopper MSc PGDipEd DipCPC RGN RM RSCN RCNT - Senior Lecturer, Oxford Brookes University
Dr Ian Spillman MRCP FRCPCH DA DTM&H DCH - Medical Director, Kisiizi Hospital, Uganda
course administrator
Laura Risdale - CMF International Coordinator
course hosts
Ian and Hanna Spillman
comments
The Developing Health Course has been running for over 40 years, equipping hundreds of doctors, nurses and allied health professionals for work in resource-poor settings. Previous participants have commented:
'This is by far the best course I have ever attended'
'We have really enjoyed every moment of very day on this course. We have found it challenging, inspiring, informative & applicable'
'All that I was hoping for and more'
'This course is excellent! It's good for the young ones who are planning to go, for the older ones who are in the thick of it and old people, like me, who are looking to see where God can use them in the last lap!'