Confident Christianity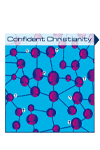 The apostles shared their faith in words people understood, in an environment where their hearers felt comfortable, and with opportunity for discussion. So should we!!  Confident Christianity is a one-day evangelism training course that employs just these principles. All the course material is available here.

The material in this pack was originally assembled by Dr Peter May and Dr Peter Short (both Southampton GPs) for a series of Training Conferences organised by the Christian Medical Fellowship for medical students in 1989. Over 300 students attended the series which led to a programme of Dialogue Evangelism in the Autumn Term of '89 when over 1000 medical students in Britain were engaged in dialogue about the Christian Faith. This was achieved through a series of lunches and suppers, held in conjunction with the distribution of an evangelistic booklet called 'The Greatest Person?'

The original material has since been expanded and revised under the title 'Confident Christianity' (CC). Although assembled with medical students in mind, it has no primary reference to medicine and can stand on its own as an introduction to the challenge and difficulties of engaging in dialogue about Christianity today.

The booklet 'Dialogue in Evangelism' by Peter May is a great resource alongside the CC material. The pdf is available here.