Spotlight: Spring 2017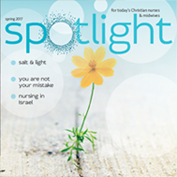 PDF version
(right-click and choose 'save as...' to download)
Editorial
How do you eat an elephant? One mouthful at a time, as the old riddle says. How do you change your workplace? One interaction at a time might be the answer. In this issue we look at what it means to be 'salt and light'. In Matthew 5:13-16, Jesus told his...
The salt effect
When we think of Christian nurses throughout history who have acted as 'salt and light' in the workplace, we may immediately think of some well-known examples. Nurses like Florence Nightingale whose moniker is the 'founder of modern nursing' as she fought to improve hospital conditions for the wounded soldiers in...
a nursing role in Israel
In September 2016 I had the opportunity to volunteer for Shevet Achim, a Christian Medical NGO in Israel which brings children from all over the Middle East into Israel to have free heart surgery. I had been to Israel a few times before but wanted to do something with my nursing...
you are not your mistake
We all face them. Situations when fatigue, overload or simply a momentary lapse of concentration or judgment lead us to do or say the wrong thing in a clinical situation. Most of the time these are minor mistakes that have no serious consequences, but we often live in fear of...
Devotional
Do everything without grumbling or arguing, so that you may become blameless and pure, 'children of God without fault in a warped and crooked generation.' Then you will shine among them like stars in the sky,as you hold firmly to the word of life. And then I will be able...
On the front line
What area of nursing or midwifery are you in? I work in emergency nursing, in a major trauma centre, pre-hospital care with an Air Ambulance Service as well as an academic as Professor of Emergency Care. Why did you choose this specialty? When I first qualified I really didn't like nursing! I started...