Impossible Commands
<< back to bookstore frontpage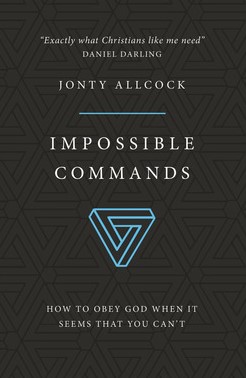 Order Ref:
Published by: Good Book Co
Author: Jonty Allcock
ISBN: 9781784983338
Price: £7.00
Numerous voices tell us constantly that there is no such thing as impossible. You can do whatever you want to do and you can be whatever you want to be. And this extends to obeying God's commands.
Many of our problems in living for Jesus stem from the root problem that we think we can do it. We think that we have the power within us. We are told we can do it. We know we are supposed to be able to do it. If we aren't able to do it there is something wrong with us. So we all pretend we are doing it when deep down we know we aren't.
That is the madness of our lives. It is the slavery of the impossible.
This book shows us that embracing the impossibility of our own obedience leads not to despair, but to true freedom as we look to the God who can do all things:
"With man this is impossible, but not with God; all things are possible with God." (Mark 10:27)
All orders are subject to availability