nucleus: winter 2004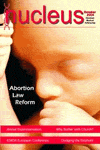 Editorial
Sadly it's time for me to put the lid on my pen and hand over the editorial reigns of Nucleus. I'm now in my last year at medical school and I realise with a heavy heart that it's about time I started focussing on some medicine! However, the occasion makes...
Dodging the Elephant
In April, the media wowed us with heartwarming reports about the latest medical technology: three dimensional fetal ultrasound. Large, colour pictures pioneered by Professor Stuart Campbell's team at London's Create Health Clinic, displayed the unborn babies in amazing detail. The new scanners demonstrated fetuses at twelve weeks stretching, kicking and...
News Review
Green light for cloning Success for 'saviour siblings'? 'Fetal reduction' to save mother's life Ovarian transplant woman gives birth Patient wins right-to-life ruling Female doctors cost the medical profession influence Abu-Ghraib inmates tortured by doctors And finally… Green light for cloning The Human Fertilisation and Embryology Authority (HFEA) has given...
Abortion Law Reform
On April 27 1938 a girl of 14 was raped by a group of guardsmen at Wellington Barracks in west London. She became pregnant as a result. The first doctor asked to terminate the pregnancy was a Roman Catholic who refused. The second doctor, Aleck Bourne, admitted the girl to...
Animal Experimentation
Human experimentation on animals is a subject that literally evokes violent reactions: 'I don't think you'd have to kill too many [animal researchers]. I think for five lives, ten lives, 15 human lives, we could save a million, two million, ten million non-human lives…I am simply saying that [violence] is...
Why bother with Church?
Many Christians grapple with this question, either consciously or subconsciously. As students studying hard for frequent exams, it can be difficult to juggle our week, whether it's making time for football, our grandparents' golden wedding anniversary, or dare I say it, for church. This becomes increasingly difficult as work demands...
Who cares? – ICMDA European Conference
From 5-8 September, nine students and several junior doctors from across the UK and Ireland attended the students' and juniors' preconference prior to the International Christian Medical and Dental Association's (ICMDA) European Conference (8-12 September). This takes place every four years, and was held this time at the beautiful 'Geistliches...
Ethical Enigma 9
In the first instance your thoughts may be that this chap, who is otherwise well and rarely attends the surgery, is unlikely to have any physical and psychological problems. However, even if your gut feeling is that this is a purely spiritual problem, it is wise to explore wider issues...
Cross and Crescent: Responding to the Challenge of Islam (Book Review)
My medical school has a large Islamic community and my dad's family are Muslims, so I was eager to see if Colin Chapman could provide some realistic, practical advice in reaching out to Muslims. Cross and Crescent provides a solid foundation for anyone who wants to understand Islam better and...
The God Who Is There (Book Review)
If we live in a world that thinks there is no absolute truth and that faith and reason are incompatible how can we convince people that God exists? Francis Schaeffer was the founder of L'Abri in Switzerland, a study community set up to help people relate Christianity to all aspects of...
Letters
Postmodernism Editor, I appreciated Marcus Honeysett's article 'Christians in a postmodern world' in April's Nucleus (pp26-32). However I was uneasy at the way it came across as overwhelmingly negative about my culture. A closer look at the relationship between the gospel and culture might help. Lesslie Newbigin points out that the...