triple helix: autumn 2004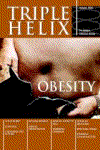 PDF version
(right-click and choose 'save as...' to download)
Government consultations - It is our duty to be involved
One of CMF's aims is 'to promote Christian values, especially in bioethics and healthcare…' and to this end we issue press releases and contribute to government consultations.[1,2] We are currently awaiting the Government's response to three consultations, all of which closed over the summer. The Department of Health's Choosing Health? consultation...
New DFID paper on sexual health - Foolishness on a grand scale
On 6 July, the Secretary of State for International Development Hilary Benn (pictured) published a Department for International Development (DFID) position paper on 'sexual and reproductive health and rights'.[1] This sets out what the DFID believe should be done to improve sexual health in the developing world and forms the...
Leslie Burke v the GMC - Good news for vulnerable patients
God has a heart concern for the defenceless and vulnerable (Psalm 82:3-4). It is a high calling to care for such people, but temptations to fail in this area are surprisingly great. The intensivist trying to run a service with limited beds or the physician with a budget deficit face...
Poaching health professionals - A growing injustice needing urgent solutions
At the Bangkok World AIDS Conference in July 2004, it was highlighted that the fight against HIV in Africa was imperilled by the severe shortage of trained doctors and nurses.[1] The grim reality is that even where the drugs and funding are available, there are no skilled health professionals to...
Is Sexual Orientation a Myth?
The document, Some Issues in Human Sexuality,[1] recently debated in the General Synod, raises important questions about the significance of bisexuality, not least for our understanding of sexual orientation.[2] It claims, for instance, that Ancient Greek and Roman cultures did not have sexual orientation terminology in their language (p219). They...
The Mental Capacity Bill - Gateway to Euthanasia?
The draft Mental Capacity Bill[1] was published this summer following a decade of discussion and negotiation. One of the remarkable things about the bill is how long it has taken to come to parliament. This is largely due to the considerable input from various faith-based and 'pro-life' organisations, including CMF,...
Working Abroad
The poor will always be with us. The images on our TV screens remind us daily of desperate need and published facts confirm that need for healthcare workers overseas has never been greater.[1] So how can I, as a trainee, get involved and when is the best time to go?...
Facing the Obesity epidemic
Obesity is an increasing problem in the UK, with over 60% of the population overweight and 20% obese. This results in an increase in risk of morbidity and mortality from type 2 diabetes, ischaemic heart disease, hypertension, cancer and stroke, amongst others.[1] Obesity is not confined to the UK. The...
Herbs in Medicine
Investigation into the use of herbs in medicine is a vast subject. Even the descriptions used - phytotherapy, herbal medicine, herbalism, traditional and natural medicines - are confusing, meaning different things to different people. Herbal reference books may add to this confusion by including natural products such as vitamins, minerals...
Serving, Not Being Served
Jesus summed up God's demands on mankind in two key commands: 'Love the Lord your God with all your heart and with all your soul and with all your mind' and 'Love your neighbour as yourself'.[1] Jesus fulfilled both perfectly in making it his supreme objective to do the will...
Employed by God
As a young man, Tom started a business that grew into a successful enterprise. His competence and character meshed, resulting in an outstanding reputation in his community. Over several years, he saw employees and customers begin a personal relationship with God and grow in their faith. Tom didn't anticipate facing...
Building a Spiritual Team
It would be so much easier to care for our patients if we were omnipotent. Omnipresence would be useful too! We are all too constrained by the limitations of our giftedness and time. Most of us are too busy. We face multitudes of demands, usually all at once, and they are...
How I'd Handle it - Tired and Stressed
Alex's night is not going well. Whilst clerking down in A&E, a ward he's only just left calls him, wanting an opioid prescription. He runs back up. Bleep: the lab have thrown away a sample he spent an hour extracting from a violent, demented lady, all because he mis-spelt her...
Eutychus
Abortion debate extends to the pill A growing number of doctors and pharmacists in the US are refusing to dispense the oral contraceptive pill on the grounds that it sometimes allows fertilisation but not implantation, and is thereby potentially abortifacient. The state of Wisconsin passed a bill to allow pharmacists...
Handbook of Religion and Health (Book Review)
Is religious belief bad for your health? Many Triple Helix readers may be interested in the answer to this question, and happily it is a question that can be answered from the results of a large volume of good research. The evidence for the effects of religious belief, or spirituality,...
Touching the Ends of the Earth (Book Review)
Founded in 1903 as the Missionary School of Medicine, this book gives a history of the work of the organisation over the past 100 years. Its title comes from words spoken by one of its early Presidents to students each year, as they were commissioned. The school was established to...
When Life Hurts (Book Review)
This little book, which takes less than an hour to read, is designed to help those who are distressed by questions about suffering and are in need of comfort. Yancey, well-known for his popular book What's so Amazing about Grace?, looks at questions like 'Why does God allow the innocent...
God, Medicine and Miracles - The spiritual factor in healing (Book Review)
Dan Fountain is a member of the ICMDA and a long-term missionary medic who worked in the Democratic Republic of Congo. He has received numerous awards for his contribution to Community Health and is a firm advocate of whole person healthcare. This is not a book about 'faith healing' but...
Going Public with Your Faith - Becoming a spiritual influence at work (Book Review)
I have heard it said that there is one thing that Christians and non-Christians have in common: they both hate evangelism. At first it might seem a strange thing to say, but on reflection many of us will agree with this. Have you ever felt uncomfortable about how to witness,...
War Against the Weak (Book Review)
Edwin Black painstakingly traces the development of eugenic ideology, from its early days in British academia to the take over by wellfunded American institutions, and its later disgrace in Hitler's Third Reich. Eugenic ideals about the superior white 'Nordic' race were so unquestioningly accepted in governmental and 'society' circles, that...
Make Me and Mould Me?
The arrival of overseas guests inspired a visit to our local pottery where we were given a running commentary as the potter demonstrated his skill. First, he took an unattractive lump of grey clay and threw it with some force onto his wheel. As the wheel span round, he kneaded...