triple helix: spring 2005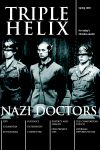 PDF version
(right-click and choose 'save as...' to download)
Human papilloma virus - Department of Health continues to ignore implications
Human papilloma virus (HPV) was back in the news on both sides of the Atlantic early this year. The UK press was euphoric about a new vaccine against HPV which would be available 'within the next five years'. [1] This is indeed good news but predictions of women no longer...
Chlamydia screening at Boots - De-moralising medicine
Boots the chemist is to offer a screening test and treatment for the UK's most common sexually transmitted infection, chlamydia. [1] This is part of a government-backed national screening strategy [2] aimed at reducing the effects and spread of chlamydia infection which is asymptomatic in the majority of men and...
Euthanasia - arguments from autonomy
There are concerns that the Mental Capacity Bill might let euthanasia in by the back door. [1] Intense interest also surrounds the Report of the House of Lord's Select Committee considering Lord Joffe's Assisted Dying for the Terminally Ill Bill, [2] which if ever enacted would allow 'front door' physician...
The Nazi Doctors Lessons from the Holocaust
Survivors and world leaders recently commemorated the 60th anniversary of the liberation of Auschwitz by the advancing Soviet army on 27 January 1945. [1] Auschwitz was the largest of the Nazi death camps, where 1.1 million people died during the Nazi holocaust. However, very little, if any, of the media...
Eugenics?
Author of the Father Brown mysteries and political essayist, GK Chesterton perceptively said, 'We can be almost certain of being wrong about the future, if we are wrong about the past'. The American eugenics movement is an historical epoch that we can ill afford to be wrong about. Our future...
Osteopathy
Surveys indicate that osteopathy is the most popular alternative therapy in UK with over 3,000 osteopaths providing six million patient consultations a year. Usually perceived as a method of treating musculo-skeletal problems (especially low back pain) by physical methods such as manipulation and massage, it was originally intended to be...
Poverty+health
It would be hard to miss the headlines of the first few weeks of 2005. Tony Blair, Gordon Brown and the Vicar of Dibley, all promising that this year was the year to 'Make Poverty History'. [1] Why 2005 in particular? One reason is the pivotal role the UK will...
Imitating Christ in our private life
Having a pattern to follow is not our only need as healthcare workers. Attempts to follow Christ's example inevitably fail unless they are energised by his supernatural power. The Gospels record how constantly and critically Jesus was watched, [1,2] and the same is true of those who profess to follow...
Records, Confidentiality and Computers
Over the next few years there will be a revolution in the way personal information about patients is managed in the NHS. We are told that: '…every patient's medical and care records will be held electronically and will eventually be available securely online. The information will be safely and easily...
The Comforting Touch
'People were bringing little children to Jesus to have him touch them, but the disciples rebuked them' (Mark 10:13). Most people know that tiny babies thrive better for personal contact. Ill and dying people are often comforted by a hug or handclasp. Intensive medical care is no longer like Thai...
Standing on the shoulders of giants
Over the years we discover how much our paths and perspectives are shaped by people who have gone before. As a medical student involved with ICMDA I met some remarkable medical role models: great people of God like Paul Brand, Keith Sanders and Dennis Burkitt to name a few. All...
Eutychus
Class difference in disease and survival Men and women living in the poorest areas of England not only die younger than those living in more affluent districts, they also spend twice as many years in poor health, says a report in Health Statistics Quarterly. Conclusions are based on 1994-1999 data from...
Tracing the rainbow - Walking through loss and Bereavement (Book Review)
A Christian psychiatrist and journalist here explore the nature of grief after death or divorce, offering telling personal histories to illustrate their points together with practical wisdom and spiritual consolation. The authors remind us how grief is the other side of love. Its duration matters less than its direction, which...
A distant thunder and a different drum beat (Book Review)
Throughout the world the ways through which Christian faith influences healthcare services have changed radically and continue to change. This booklet is an analysis of a workshop run by the Evangelical Medical Fellowship of India and the Emmanuel Hospital Association on the changes in India over the past 50 years,...
Medical ethics today (Book Review)
The 1974 edition of the British Medical Association's (BMA) ethics handbook provided guidance on important matters such as whether a consultant or a GP should enter the room first when both visited a patient. Times have changed significantly, and medical ethics with them, and the new edition of the handbook,...
A Biblical View of Law and Justice (Book Review)
Christian doctors often rage at the laws which set the ethical pace of their profession. This book is an important inquiry into the legitimacy of that rage, and a lexicon of the words in which the rage can properly be articulated. The Bible is full of laws. They sometimes seem...
Informing Choice (Book Review)
This is a highly useful resource for anyone interested in sex education, whether or not they are working in Scotland. Within its mere 88 pages of densely packed text, it covers a wide range of topics. Consisting of two parts, the first summarises the sexual health scene in Scotland and...
Letters
Smacking children Readers have added their comments and insights to this debate (Triple Helix 2005; Winter:16-17). Huw Francis argues that prevention is better than cure. I am sure readers of Triple Helix will have been surprised at Dr Rhona Knight's comment on the legitimacy of smacking a child approaching danger in the home....
Bearing one another's burdens
When I was a final year medical student a baby was admitted onto the paediatric surgical ward with duodenal atresia. A relatively straightforward operation would have saved her but, because she had Down's Syndrome, her parents opted not to treat. She was left alone in a side room, given large...