triple helix: Easter 2008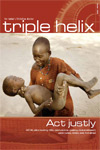 PDF version
(right-click and choose 'save as...' to download)
Time for change - Reducing the upper abortion limit
The Human Fertilisation and Embryology Bill, currently before Parliament, opens the 1967 Abortion Act up for amendment. The upper limit for socalled 'social abortion' was initially 28 weeks but was lowered to 24 weeks by the 1990 Human Fertilisation and Embryology Act. This change reflected improvements in neonatal care. More...
Stem Cell Delusions - The government juggernaut rolls on
In order for a belief to be considered delusional, argued the psychiatrist and philosopher Karl Jaspers, it must be held with absolute conviction and not be changed by compelling counterargument to the contrary. The determination with which the British government has pursued embryonic stem cell research, despite its failure to...
Open all hours? - The BMA clash with the government over plans for extended open hours
The New Year kicked off with an announcement of yet another NHS shake-up. In a speech pegged around the forthcoming 60th anniversary of the NHS, Gordon Brown revealed that the nation's rarely-seen-in-the-NHS, healthy citizens are to be encouraged to see the doctor anyway, in order to prevent them turning into...
Abortion - Misinformation in high places
The Human Fertilisation and Embryology Bill, currently before Parliament, does not specifically deal with abortion but does nonetheless open up the whole of the Abortion Act 1967 for amendment. This is because its predecessor, the 1990 HFE Act, lowered the upper limit for so-called 'social abortion' from 28 to 24...
Opt-out or opt-in? - Organ donation policy
In 2007 about a thousand people died in the UK while on the organ transplant list or having recently been removed from it because they were too ill. It is claimed that a system of 'presumed consent' – where unless you have specifically opted out it will be presumed you...
Act Justly
In sub-Saharan Africa in 2005, the mortality rate in children under five averaged 169 deaths per 1,000 live births – 28 times the industrialised country average of six deaths per 1,000. [1] More than 500,000 women die each year in childbirth, most of them in developing countries. [2] Worldwide, 39.5...
Teaching ethics
Setting the scene The place of ethics in the undergraduate curriculum continues to be a hot topic in UK medical schools. For many years now, few have disputed that medical students should be introduced in the classroom to the wide array of ethical issues in medicine. This early exposure provides...
Special study modules in Christian medical ethics
Imagine if Christian students were allowed to study Christian medical ethics at medical school! Five medical schools around the UK are doing just that, running special study modules (SSMs) in medical ethics from a Christian perspective. To date there are courses running for between two and eight weeks in Birmingham,...
Juniors' Forum - Let's communicate
Juniors' Forum has decided to spend a few issues exploring the gentle art of good communication. 'Oh no!' I hear you cry. 'How boring!' Certainly that's how I felt as a houseman (pre-registration doctor), but then my one and only undergraduate experience of 'learning communication skills' had been highly ironic...
A harmless flutter? - Gambling
The UK Gambling Act, introduced in 2005, anticipated the development of many new casinos across the country, including several 'megacasinos', which would have over a thousand slot machines capable of delivering jackpots of up to £1,000,000. [1] Advocates claimed megacasinos would create thousands of jobs and regenerate poverty stricken areas....
I miss the sound of the wind
As a child, our large garden had many trees, and I remember lying in bed listening to the wind, and feeling secure. My parents were Christians, but as a teenager I had no belief in God – religion made no sense to my scientific way of thinking. Fortunately, I now...
Parish nursing
What is parish nursing? It was founded in the USA in 1985 by Rev Dr Granger Westberg, who proposed a new concept of 'nursing guided by the Holy Spirit which is provided to both the congregation and the wider community, alongside existing pastoral care'. [1] It is 'the most exciting...
Singing the life - The story of a family in the shadow of cancer (Book Review)
Elizabeth Bryan was a much loved paediatrician, acclaimed internationally for establishing the Multiple Births Foundation, and a personal friend. This book tells the story of how the dominant cancer gene BRCA1 has been variably expressed across her extended family, finally and fatally affecting her own pancreas. She advises genetic screening...
Can you believe in God and Evolution? - A Guide for the Perplexed (Book Review)
Darwin's Origin of Species caused a sensation on its publication in 1859. The idea that living things gradually evolve through natural selection shocked Victorian society. It called into question the previously unshakeable belief in a Creator. Theologian Ted Peters and molecular biologist Martinez Hewlett write from a genuine concern about...
Adam – God's Beloved (Book Review)
'While at first it seemed quite obvious who was handicapped and who was not, living together day in and day out made the boundaries less clear.' So writes Henri Nouwen, a Dutch Roman Catholic priest who left academia to live at L'Arche Daybreak, a community centred on core members with...
Douthwaite of the Double Dragon (Book Review)
Written by descendants with access to extensive letters, this is an account of the life of one of the China Inland Mission's most distinguished doctors. Such records provide valuable accounts for those interested in the history of Chinese medical missions. Anyone thinking of going to China should read it to...
The Busy Christian's Guide to Busyness (Book Review)
There can't be many Christian doctors who don't struggle with busyness. But what can we do about it? Tim Chester's book could easily be subtitled, 'tough on busyness, tough on the causes of busyness'. Sure, there is some good advice on how to pack more into our busy days by...
Approaching the End - A theological exploration of death and dying (Book Review)
This scholarly work by a professor of bioethics looks at two questions: 'How can we live well in the face of death?' and 'When is it ethically permissible to deliberately end human life?' It examines the writings of Ambrose, Augustine, Thomas Aquinas and the twentieth century theologian Karl Rahner. It...
The Traveller's Good Health Guide (Book Review)
This is no ordinary travel health guide. It's a personal one with medical advice for sending organisations, support for stress and burnout on the field, and a short textbook of tropical diseases thrown in for good measure. Simple enough for non-health professionals without patronising professionals, this excellent book caters for...
The Shepherd is my Lord - A doctor reflects on the twenty-third psalm (Book Review
Janet and I met 50 years ago, at medical school in Sheffield, and I have always admired her Christian walk. Her book on Psalm 23 certainly exalts the Shepherd in refreshing and challenging ways. She approaches this subject as a gifted paediatrician but also as a person with a profound...
12 Disciples - Young People's Stories of Crisis and Faith (Book Review)
Have you ever thought, 'If only God would do something?' Here is a book about young people – often in a mess – and the God who really does act. Andy Flannagan, CMF member and one-time editor of Nucleus, and Anne Calver have pulled together twelve amazing life stories from...
Caring for Dying People of Different Faiths (Book Review)
This useful volume is written in a straightforward style intended for healthcare professionals. It aims to address the paradox quoted: 'dying well means living well – that also says that we are all different and yet all the same'. As people come close to death, many will need to focus...
Suffering and Healing in America - An American doctor's view from outside (Book Review)
This elegant collection of 16 essays is much more than a critique of the failings of healthcare in the USA. It suggests solutions and its strength is that it is written by an experienced primary care physician. The 'view from outside' comes from his years of working in Africa and...
Infertility: The silent and unseen issue (Book Review)
Infertility is often a hidden issue. Unfortunately, many couples suffer in silence, blaming themselves, each other, even God. Rosemary and Barry Jubraj open up this painful and heartbreaking subject with wisdom and sincerity. Their personal experiences of infertility provide a valuable first-hand account. This book presents the issues from both...
Eutychus
The rubber has finally hit the road A BMJ Head to Head 'Are condoms the answer to rising rates of non-HIV sexually transmitted infection?' revealed astonishing concordance between camps. For 'Yes', Steiner and Cates were positive about abstinence even though it is 'difficult to achieve', warned about 'risk compensation' (feeling...
Indian summer
We met by chance in 2002 and agreed an evening of opera together. Afterwards we talked about the Christian Medical College in Vellore, south India and Andrew, an old school friend and fellow surgeon who helps with postgraduate UK training for CMC surgeons, promised to put me on the programme. ...
Letters
Abortion David Hawker , a retired consultant anaesthetist in Cornwall, shares some personal experiences of the Abortion Act. I want to thank Peter Saunders for his forthright article on abortion (Triple Helix 2007; Autumn: 3). With the throwing out of the Christian ethic, which according to Sir Jonathan Sacks began...
Final Thoughts - Jack Bauer Medicine?
The television series 24 is set in the fictional US government Counter Terrorist Unit (CTU) and each season depicts a 24 hour period in the life of Special Agent Jack Bauer. Although the series has been hugely successful, 24 has repeatedly aroused media attention for its dubious take on ethics. ...