CMF news: spring 2008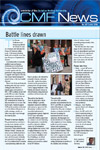 PDF version
(right-click and choose 'save as...' to download)
Battle lines drawn
The Human Fertilisation and Embryology Bill left the House of Lords on 4 February and will enter the House of Commons within weeks. It threatens individual, family and societal life more than any other piece of legislation for decades. A powerful lobby of medically qualified peers and science institutions such...
Fellowship
Changes in the office Goodbye to Joshua Joshua Wathanga left us at the end of January. He arrived in December 2006 for a six month term as a 'change manager' and graciously stayed more than a year to see the office move into the new building and to oversee the...
Boding well for the future
Writing this, I'm just back from an incredible weekend at the National Students' Conference on 8-10 February. There were almost 400 there from virtually every medical school in the UK and Ireland. Many spoke of the great encouragement and challenge it was to them, and a large number were there...
The New Graduates' Committee
I have been asked to introduce myself as Chair of the new CMF Graduates' Committee. I am Nick Land, a 46-year-old consultant psychiatrist based in the north east of England. I am married to Helen who works as a part-time GP in inner-city Middlesbrough. We have three sons (16, 14...
Communications and Publications
News received The Schindler Prize Robert and Mary Schindler were the parents of the late Terri Schiavo. They fought a long legal battle in the USA because they believed passionately in the infinite value of her life. Coincidentally, their name stirs up memories of the film Schindler's List. 'First Do...
Mission Matters
Our forebears took their coffins with them It is encouraging to see the continuing trickle of folk setting off to work overseas and to hear of the many short term trips that UK based members are making in response to needs. Recent suggestions for future training programmes seem to leave...
International Christian Medical and Dental Association
ICMDA Eurasia – 2007 review A second year student from Vienna attended the first training conference for medical student leaders in Central Europe in September. He knew of only four other Christian students in his medical school of 4,000. He was fired with enthusiasm to reach out to his medical...
Allied professions
Christian Therapists' Network (CTN); Christian Nurses and Midwives (CNM) 2007 was a relatively quiet if eventful year. One key change was that CTN underwent a major change of leadership, as Zillah Whitehouse, its founder and co-ordinator for the past seven years, stepped back while many other longstanding Council members stepped...