nucleus: spring 1998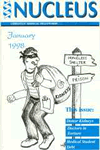 Editorial
Regular readers will note the change of format for this issue. This is not without purpose. Dionysius has gone to meet his maker and in his place we begin a new regular feature entitled 'Deadly Questions'. Beginning with abortion, this aims to equip us to deal with those tricky questions...
Do Fetuses Feel Pain?
A recently published report by the Royal College of Obstetricians and Gynaecologists (RCOG) has suggested that fetuses cannot experience pain before 26 weeks' gestation. This received substantial media attention.[2] However, the report of the Commission of Inquiry into Fetal Sentience (the Rawlinson Report) suggested that pain may be experienced from...
Personal Agendas in Research
In the public mind, scientists are frequently imagined to be unbiased data collectors, working purely for the advancement of humanity. Unfortunately, such impartiality is notoriously elusive: after all, scientists are humans with opinions, prejudices, motives and emotions. As students of biological science, medics are also deemed objective. However, very few...
The Power of the Pen
'The Old Testament is full of sex and violence and most unsuitable for children, and the New Testament is about catering for large numbers.' Funny? Blasphemous even? What do you think? When this joke was made on a BBC Radio 4 news quiz, a few complaints resulted in editing of the...
News Review
Euthanasia update Dutch Non-treatment decisions Calls for abortion in Northern Ireland Fetal rights? Tobacco controversy continues Acupuncture on the NHS? Transplanted organs from prisoners Concerns about unethical organ sources Xenotransplantation progress Genetics update New pre-implantation screening centres Post-natal screening advances Infertility treatments on the increase Homosexuality debate rages on 3...
Donor Kidneys - an Ethical Way of Increasing Supply?
The scope of the problem Renal transplantation is now a well established form of treatment for end stage renal failure (ESRF). However, with increasing numbers of patients on dialysis and relaxation in the criteria for accepting patients on to a transplant waiting list, the shortage of available kidneys is one of...
Doctors Involved in Torture - a Christian Response
According to latest statistics from Amnesty International,[1] torture is systematically or episodically practised in around 65 countries with credible allegations of incidents from over 30 others. The true figures are probably much higher as many countries are closed to human rights investigators. Reports of the involvement of doctors and other...
Medical Student Debt
The scale of the problem Dr Sandy Macara, chairman of the British Medical Association (BMA) Council, has reported that the average graduating medical student leaves with a total debt of £6,758 - nearly twice that of the average student.[1] This figure has been increasing steadily for the last few years and...
Deadly Questions - on Abortion
Isn't the fetus only a potential human being? This is the key issue. Biologically the fetus is undoubtedly human; it has human chromosomes derived from human gametes. It is also alive, exhibiting movement, respiration, sensitivity, growth, reproduction, excretion and nutrition. It is therefore more accurate to speak of it as a...
Differential Diagnosis 23
Having been delivered divinely from the King of Assyria (1 Kings 18-19, see the last issue of Nucleus), Hezekiah now suffers a fatal illness related to a boil. Isaiah breaks the bad news: 'You are going to die!' The Hebrew word, here translated boil, is also used in Exodus 9:9,...
Fishing the Net
Abortion is always a contentious issue. It is reassuring to find some sound anti-abortion argument that doesn't follow along the lines of 'abortion is murder, how can you slaughter such innocent and weak little creatures; all abortionists are murderers and should be shot on sight etc'. Abortion Perspectives is such...
Darwin on Trial (Book Review)
For many people, Christian or atheist, the theory of evolution is perceived as a major challenge to the Christian faith. Copious amounts of ink have been spilt in reconciling the theology of creation with the 'fact' of evolution. This is not one of those books. Having stated that he is...
Evolution: A Theory in Crisis (Book Review)
After briefly outlining the history of the debate, Denton calmly and authoritatively debunks all of the major lines of evolutionary argument - homology, fossils, 'missing links', molecular biology, the problem of life's origin and the statistical probability of evolution. From one angle after another, it is shown that nature simply...
Lemuel's Limericks
A gentleman living near Woking Who'd made a small fortune stock-broking Resolved to abstain (one day on the train) From any more cigarette smoking That evening departing the station (Absorbed in self-congratulation) He cut through a park when arterial plaque Obstructed a main bifurcation This bout was the first of a clump Which crippled his cardiac pump And...
Know Your Bible 25
Answers It was two blind men who called out to Jesus, 'Have mercy on us, Son of David!' After they had confessed their faith in him, Jesus healed them by touching their eyes (Mt 9:27-31). David says that his ears have been pierced by God (Ps 40:6), signifying that he...