nucleus: summer 1999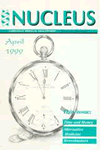 Editorial
Time, or rather the lack of it, is a subject close to every medic's heart. Perhaps we laugh ruefully at Ecclesiastes claim that 'there is a time for everything, and a season for every activity under heaven'(Ec 3:1). If only. If you are anything like me you may frequently find...
News Review
Side Effects of the Pill Male Pill within five years Abortion in Bavaria and Ireland Teenage and Unmarried Pregnancies Fetal faces on ultrasound Single Cell Genetic Fingerprinting Cloning Update Illegal Sterilisation in Peru Pakistani Discrimination against Women Abuse of Dutch Euthanasia Legislation Doctors starve patients in Sussex HIV Vaccines Viagra...
In the Lion's Den
Excellent! This year's CMF National Conference was brilliant, but don't just read about it here. I expect you know someone who went, so if you couldn't go this year, grab them and ask them about it. Go on, now! Well, maybe you're reading this in your room and your friend...
Time and Money - Developing World Ethics
The ethical dilemmas faced by health professionals in the developing world ultimately revolve around two main problems: not enough money, and not enough time. There is not enough money to do the job that needs to be done, and there is not enough time in which to do it. This...
Alternative Medicine
Alternative medicine is rising rapidly up the heathcare agenda. One in four people in the UK use at least one form of alternative medicine and three out of four people are in favour of alternative therapies being available on the NHS. One study cited by a recent BMA report suggested...
Stressbusters
I find travelling by aeroplane stressful, even in a 747 belonging to the 'world's favourite airline'. But this time I was in a small twin-propeller plane flown by a company known as 'prayers in the air'. I was soon to discover why! During my elective, what I thought would be...
Faith in Practice - Being a GP
What hours does a GP work? Surgeries may start at 8.30am and last until 11am. The next 4 hours are likely to given over to reading letters, dictating referrals, making phone calls, signing repeat prescriptions, doing medical examinations (eg for insurance companies), performing minor surgical operations (fitting IUCDs, removing skin...
Head to Head - Prenatal Screening
Deadly QuestionsDeadly Questions in the October 1998 issue of Nucleus left me disappointed by its negative attitude to the Human Genome Project and to pre-implantation genetic diagnosis. Firstly, the Human Genome project is not geared to 'search and destroy' abnormal fetuses. If it were it would herald the end of...
Differential Diagnosis 28
Luke has a difficult task in determining the most likely diagnosis for the man who was healed on the Sabbath in the home of a prominent Pharisee. Although this example of healing is important to our understanding of the Lord's day, we know very little about the person involved other...
Know Your Bible 30
Answers 'A woman who fears the Lord is to be praised.' In contrast, 'charm is deceptive', and 'beauty is fleeting' (Pr 31:30). Paul prays that Philemon may be active in sharing his faith (which refers to generosity and fellowship in this context) so that he would have 'a full understanding of...