nucleus: summer 1997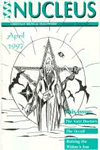 Editorial
'A new team, a new dream.' These words spoken before the last editorial committee meeting, are an apt summary of the current situation here at Nucleus. None of our student members has been involved for more than two previous issues and this presents us as a team with both marvellous...
News Review
Euthanasia Round-Up Second patient dies by euthanasia under New Act US supreme court ruling on euthanasia Dutch cabinet relaxes euthanasia legislation Woman wins fight to conceive using dead husband's sperm Successful intrauterine bone marrow transplantation Retinal cell transplants from aborted fetuses Scientists hope to map all human genes...
The Nazi Doctors - Lessons from the Holocaust
Most remembering the holocaust think of six million Jews, but the tragic drama which ended in the gas chambers of Auschwitz, Belsen and Treblinka had far more humble beginnings; in nursing homes, geriatric hospitals and psychiatric institutions all over Germany. When the Nazis arrived, the medical profession was ready and...
Thank you Lord for my fingers
My first days in RLH were spent learning new protocols and procedures. On my first day the senior doctor took me to the operating theatre to carry out what she called 'Septic Surgery'. As a doctor only familiar with strict, aseptic conditions, this term itself was a paradox. I was...
The Occult - Fact or fiction?
1951 saw the repeal of the 1735 Witchcraft Act. This move of Parliament legalised membership of satanic covens and the open practice of witchcraft. European interest in the paranormal is rising to a phenomenal level, the sheer volume of media coverage and literature available on the subject of the Occult...
Embryology and the Qur'an
Many Muslims claim that the Qur'an contains statements about how humans develop which could not possibly have been known at the time of its writing. If true, this would imply that the Qur'an had a divine author. Indeed, when Prof Keith Moore, the writer of 'The Developing Human', a widely...
Raising the widow's son
Luke 7:11-16 Soon afterwards, Jesus went to a town called Nain, and his disciples and a large crowd went along with him. As he approached the town gate, a dead person was being carried out - the only son of his mother, and she was a widow. And a large...
Differential Diagnosis 20
Zechariah, the father of John the Baptist was unable to speak' after meeting an angel in the temple, but his tongue was loosed' shortly after John's birth. The apparently isolated voice loss was of rapid onset, complete and and similarly resolved suddenly and fully after a period of nine months...
Dionysius Dialogues - Truth
Different interpretations Nitpickerus: We seem to have reached an impasse Dionysius. We have two Christians who accept the Bible's authority; and have made every effort (at least so they claim) to interpret it correctly. They have been careful to seek out the original meaning of the text and to consider it...
Fertility and Faith (Book Review)
After his first two children died at birth due to a rare medical condition, Brendan McCarthy began to investigate fertility treatments to ascertain which if any were compatible with the Christian faith. This book grew out of that research. In it he reviews the history of the Warnock Report which...
Cure for Life (Book Review)
I wonder whether you, like me, have had problems finding a book that you can give away with confidence to a friend or colleague who is enquiring about the Christian faith. So many tracts are too simplistic and in their desire to put the gospel in a pithy form lose...
Know Your Bible 22
Answers Abimelech and Goliath both fell victim to a head injury. Abimelech was finished off with the sword, but Goliath died from the initial trauma. (Jdg 9:52-55; 1 Sa 17:49-51) The Laodiceans were counselled by God to put salve on their eyes in order to help their spiritual blindness. (Rev...
Lemuel's Limericks
It started with harmless intent Ensuring that pennies weren't spent A mental defective (by process selective) Despatched with parental consent The precedent thereby was set And others were trapped in the net And more (by and by) were assisted to die' Whenever conditions were met The vision was gen'rally caught And quicker new methods were sought The trains...