nucleus: winter 1996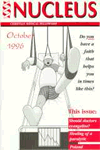 Editorial
One of the most reprehensible attitudes in the Christian life is enjoying the benefits of salvation and keeping the knowledge to oneself. In the desert, the greatest of all crimes is that of knowing where the water is, and keeping the knowledge to yourself.' So said Dr Stanley Browne, founder...
Should Doctors Evangelise?
Some years ago a seminar was held at a conference for Christian doctors, and about 30 were each asked their opinion on whether doctors should evangelise their patients. 25 of them thought that we should not. Reasons given included: There is no time It doesn't help the dignity of our...
Healing of a Paralysed Man
One day as he was teaching, Pharisees and teachers of the law, who had come from every village of Galilee and from Judea and Jerusalem, were sitting there. And the power of the Lord was present for him to heal the sick. Some men came carrying a paralytic on a...
Words from the Wards
My house officer year has been my hardest year ever. I have worked harder and longer and been more tired and bad tempered than ever before. I've wished patients dead, wanted to hit colleagues and considered destroying my bleep on several occasions. More than once, I've thought about giving up...
Differential Diagnosis 18
It seems Rebekah's twin pregnancy was not easy. The phrase 'the babies jostled each other within her' (Gn 25:22), is hard to put into medical terminology but suggests unusually violent foetal movements. This foresaw the momentous future conflict between Esau and Jacob- and their descendants (Gn 25:23). In the Bible...
Dionysius Dialogues - How God Speaks
Does God speak through the Church? Nitpickerus: So the Bible is authoritative and sufficient, but not exhaustive. You admit there are things that God doesn't reveal in it. Dionysius: Of course. There are revealed things and secret things.[1] Nitpickerus: Then does he reveal these things elsewhere? For example, can God speak...
Lemuel's Limericks
A teenager saying a prayer To God (whom he hoped might be there) On finding he was, was delighted because He was saved from his angst and despair So feeling profoundly relieved Enamoured with what he'd believed He sought to persuade all the friends that he made That they needed what he'd received Some branded...
Know Your Bible 20
Answers 'Hot' food and drug reps are inescapable components of medical student life. The Bible mentions both in saying: 'Many curry favour with a ruler, and everyone is the friend of a man who gives gifts'. (Pr 19:6) John the Baptist leaped in the womb when Mary came to visit....