CMF news: spring 2017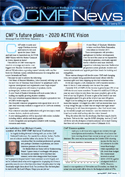 PDF version
(right-click and choose 'save as...' to download)
CMF's future plans – 2020 ACTIVE Vision
CMF exists to unite and equip Christian doctors and nurses to live and speak for Jesus Christ and last year we launched our ACTIVE 2020 Vision with the theme 'Connect & Grow, Speak & Serve'. This edition of CMF News reports much to encourage and excite - our biggest ever...
New staff members & staff news
André Woolgar Junior Researcher What prompted you to consider taking on this role with CMF? Having just left university, I was going through the job listings, wondering what I would do with my life. The opportunity to work at CMF jumped out at me, as it provided the...
Nurses: Growing opportunities in Scotland
Steve Fouch and Pippa Peppiatt had a full and productive week in Scotland at the beginning of February. They were responding to the growing request by student nurses to explore starting CMF nurses groups there. [Pippa writes.] We spent a day in each city: Aberdeen, Dundee, Edinburgh and Glasgow. In...
Student Conference report
If we are thrown into the blazing furnace, the God we serve is able to deliver us from it, and he will deliver us from Your Majesty's hand. But even if he does not, we want you to know, Your Majesty, that we will not serve your gods or worship...
An invitation from Richard Coekin, speaker at the 2017 CMF National Conference
'I'm hugely looking forward to being with you at the CMF National Conference. I'm married to a doctor. In fact, I'm the son of a doctor and the father of a doctor. So I'm very conscious that the medical profession in general, and perhaps Christians in particular, are under immense...
CMF finance update
Thank you to all those who support our ministry through subscriptions and donations. Production of accounts has been running slower than normal as we get used to a new database. The most recent accounts are for October 2016 showing income for the year to 31 October to be £18k lower...
Publications
Cure for Life gets a new life Bernard Palmer's Cure for Life has been re-issued in an attractive, updated edition. Bernard, a retired surgeon and pastor from Hertfordshire, is passionate about sharing the gospel. The original, written over two decades ago, has been carefully revised and updated. Rico Tice (co-author of...
George Verwer visits CMF
George Verwer, founder of Operation Mobilisation (OM), addressed CMF staff in March. Now aged 79 George is still a highly inspirational mission speaker. He recounted how he embraced 'messiology', working in what 'humanly-speaking are messy situations' and how OM gradually widened its focus from evangelism-only to a blend of proclamation,...
Public Policy
Diana Johnson's radical abortion-up-to-birth motion narrowly passed in the House of Commons 172-142. In practice it would render the Abortion Act null and void and allow abortion on demand, for any reason. Johnson's motion has influential backers including BPAS and the Royal College of Midwives. This is a Ten Minute...
International
CMF is committed to training and mentoring emerging leaders for international work. So we are delighted to announce the launch of the International Track in partnership with All Nations Christian College. Participants will benefit from engaging with some of the best of contemporary missional thought available in the UK. They...
Movements & Obituaries
Movements Nathan Lawrence to Madagascar (January 2017) Tina Lovell to Thailand (March 2017) Jonathan Thurlow to Kenya (August 2016) Obituaries Peter Bewes (q St Thomas', 1956), a member of a well-known CMS missionary dynasty, served for many years in East Africa. His last assignment was a travelling role providing training in government...