triple helix: summer 2017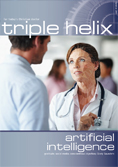 PDF version
(right-click and choose 'save as...' to download)
Troubled times?
The rollercoaster journey of the last twelve months has left many UK citizens feeling dislocated and anxious about the future of our country. Political events - Brexit, Trump, a snap general election,a hung parliament, confidence and supply arrangements and the Queen's speech - have laid bare deep divisions between old and...
BMA votes to decriminalise abortion
On Tuesday 27 June the British Medical Association (BMA) voted to support the decriminalisation of abortion throughout the UK. Delegates at the Annual Representative Meeting (ARM)in Bournemouth passed a six part motion by a two thirds majority. 1 1,500 doctors and medical students signed an open letter 2 urging the BMA...
Charlie Gard
Charlie Gard was born in August last year and, after becoming unwell at eight-weeks-old, was diagnosed with MDDS (infantile onset encephalomyopathic mitochondrial DNA depletion syndrome), a rare and severe mitochondrial depletion disease. His condition is characterised by congenital deafness, severe epilepsy disorder and severe muscle weakness. His heart, liver and...
Reforming the WHO
Overshadowed by the coverage of the horrific terrorist attack in Manchester in May, the British media largely missed the election of the new General Secretary of the World Health Organisation, Dr Tedros Adhanom Ghebreyesus (or Dr Tedros as he now styles himself). The former Ethiopian health minister became the first...
Revised General Pharmaceutical Council Guidelines
In the Spring 2017 Triple Helix editorial 1 I reviewed the attempt by the pharmacists' regulator to force pharmacists to dispense drugs for what they consider to be unethical practices - such as emergency contraception, gender reassignment, abortion and assisted suicide. In December 2016 the pharmacy regulator,the General Pharmaceutical Council (GPhC),...
Why Gratitude is Good for you
key points Though not a cure-all, psychologists have found that cultivating gratitude benefits mental health and wellbeing. Thank God day by day as the author and giver of all that is good. 'Congratulations on owning a new iPhone 6!' Right then, a gushing'congratulations' from the Apple call centre was the last...
Mirror, Mirror
key points Our society rushes to make judgments of people based on appearance. People's quest for physical perfection, however culturally defined, seems to have soared in the last two decades. Jesus' Great Commandment highlights the need to remember that we are holistic beings, who are to love God not only with bodies, but...
Communicating Faith in a Wired Society
key points This is the era of fake news and 'post-truth' politics and people increasingly live in their own isolated media bubbles. Christians need to understand the world we live in and learn to listen. To some extent what you post on social media reflects what you love. We live in...
The Machine Will See You Now
key points Artificial intelligence has the potential to benefit healthcare in developing countries, however, maximising shareholder value seems to be one of the driving forces. Christians need to affirm what it means to be human, made in the image of God, and what it means to be machine. AI and robotics will...
Getting Conscience Right and Wrong
Can a doctor refuse to participate in something hefinds unconscionable? Is this an important liberty tobe safeguarded, or an unwarranted privilege whichinterferes with patient care? Must we leave ourconscience at the door of our professional life? These are some ofthe prescient questions currently being discussed in the medicalethics literature. It should...
The Bleep Never Seems to Stop
key points Registrars may feel stuck in the middle of the healthcare structure - given significant responsibility yet also accountable to their consultant. The battle against arrogance and insecurity may be particularly potent. Christian registrars, knowing their identity in Christ, can think of themselves less and enjoy the freedom of serving God and...
Who Do You Think You Are?
We are taught to be confident. Patients need to trust our clinical judgment and they won't if we bracket it with our uncertainties. As doctors we are expected to lead by example. This means exuding an air of confidence and calm despite any panic running beneath the surface. From the...
Faith and Gratitude
'What have I got to do to say thank you and to serve?' These words, spoken by Cicely Saunders, led to the founding of St Christopher's Hospice 50 years ago.It is generally accepted that this was the beginning of the modern hospice and palliative care movement. Cicely had gone up to...
The Great Mystery: Science, God and the human quest for meaning
I f you are looking for a confident, robust and unambiguous defence of Christian belief in the face of modern secularism, then McGrath's book may be the book for you' but not in the way you might expect. We are not observers, he says, looking on and describing what we...
Assisted Suicide
Following very clear defeats of assisted suicide bills in the Westminster and Scottish parliaments in 2015, debate about this subject should be over for a decade or more - but it's not. So another book in the Talking Points series designed to help Christians think and talk about today's big...
Lighting the Way: A handbook for Christian Nurses and Midwives
Lighting the Way brings Christian nursing essentials together in four sections. 'Identity' brings fundamental skills of Christian faith with discussions on prayer, church, character, and the important relationships in our lives with colleagues and family. 'On Call' merges Christian faith with professional nursing, topics on spiritual care, workplace culture and...
Talking about dying: help in facing death & dying
Sex and politics have become mainstream,but death remains as the last subject which we do not talk about. That, according to the authors, 'simply will not do'. In reality, many people faced with life-limiting illnesses do want to talk, but are either afraid to or just do not know how...
Body: biblical spirituality for the whole person
This week I sat by the bedside of a morbidly obese woman from my congregation. She confessed that her weight was the result of overindulgence. And now her heart was failing. With our meeting still swimming round in my head, I returned home to hear one of my daughters struggling...
My Muslim Neighbour: Communicating well with your Muslim friend
Here is a very important book for any doctor or health professional who wants to share their faith with Muslim patients or neighbours. It's the fruit of a career-long commitment of a doctor who lived and worked in several Muslim countries, then practised in a mostly-Muslim English inner-city context. The author's...
Life Hurts: a doctor's personal journey through anorexia
Elizabeth McNaughtexplores the challengesof living with anorexiafrom a deeply personalperspective. As both a doctor anda sufferer she brings a balancedand insightful perspective to thisdifficult subject. She explores the complexunderlying causes and the consequencesof eating disorders onboth patients and their families.She identifies current issues withour mental health care system ina non-judgmental manner....
A Better Story: God, sex and human flourishing
I f you read one book this year, there is none more timely and needed than this one. In A Better Story CMF member and former Professor of Psychiatry Glynn Harrison contends that we are failing to meet the challenges of the sexual revolution through our lack of critical thinking...
Eutychus
Grey crime wave Where are the present-day John Howards and Elizabeth Frys? Few would disagree that our prisons are a festering problem. A Guardian 'Long Read' has drawn attention to an issue that largely goes unnoticed, though CMF members serving as prison doctors are well aware of them. The demographics of...
What defines you?
And because you are sons, God has sent forth the Spirit of his Son into your hearts, crying out, 'Abba, Father!'Galatians 4:6 (New King James Version) Who do you think you are? The question can be a challenge, a put down, or an invitation into life transforming truth. It is a...