triple helix: summer 2018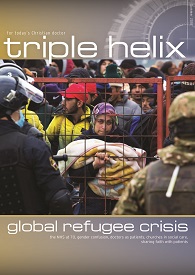 PDF version
(right-click and choose 'save as...' to download)
Legalising assisted suicide
Assisting or encouraging suicide remains a crime in Britain under the Suicide Act 1961. (1) But over the last 15 years there has been relentless pressure to change this from well-resourced lobby groups backed by powerful celebrity voices and sections of the British media. More than ten attempts to legalise assisted...
Medics on the frontline
Events in the Middle East over the last few years have challenged the long-held belief that medical services are neutrals and not to be attacked by either side. In Syria, as the civil war has headed towards its climax, bombing of hospitals has become alarmingly frequent. (1) In Yemen, a...
Changing gender
The government has launched a public consultation, (1) on how to make it easier for transgender people in England and Wales to change their legal gender on their birth certificates. A similar consultation closed in Scotland in March, but has not yet reported. (2) Currently, under the Gender Recognition Act 2004...
Abortion momentum triggered by Irish vote
In the wake of the referendum vote to liberalise the abortion law in the Republic of Ireland in June, pro-abortion MPs in Westminster, led by Stella Creasy MP, have been campaigning hard to 'decriminalise' abortion in the UK and to extend permissive abortion legislation to Northern Ireland. The momentum created...
NHS at 70
You can hardly have missed the coverage of the 70th birthday of Britain's National Health Service (NHS) in early July (unless you are not based in the UK, in which case, bear with us). (1) As Andrew Fergusson explains in more detail in his article in this edition, the advent of...
NHS 70 years old
key points Many of the major religions have medical traditions, but the ethical convictions of the church were radically different from most of the rest. The Beveridge Report created a blueprint for healthcare from 'cradle to grave' and 'free at the point of delivery', a system that relieved poor people...
standing in the gap
key points For most of the history of the West health and social care has been the preserve of family, church and local community. As healthcare has become professionalised there has been a loss of social solidarity and the marginalisation of vocation. With the NHS facing a mounting crisis of resources, Christians are...
When doctor turns patient
Adrian Warnock graduated from Bart's and the London School of Medicine and Dentistry in 1995. He specialised in psychiatry before moving into pharmaceutical medicine. Adrian was diagnosed with chronic lymphocytic leukaemia in May 2017 and has had several inpatient admissions and two surgeries as a result. (1) ...
Lessons from the refugee crisis
key points Migration is traumatic. People do not give up the security of home and support systems for no good reasons. Migration is characterised by the liminal phase - it marks a transition into a new identity. Effort is required to be a neighbour to those in need in a...
When a Christian voice can be heard
key points Service on Regional Ethics Research committees present unique opportunities for Christians to be a gracious influence. Committees try to ensure that resources are not wasted and patients are not unduly burdened by onerous tests and procedures. No particular qualifications are needed for appointment to a committee: what matters...
Sharing our faith in Jesus
key points Faith has an important place in healthcare and there are more opportunities to share faith than we realise. When we take opportunities to open up questions of faith we may find ourselves surprised to find that God is already at work in the life of that patient. Faith...
Reviews
Understanding sexual abuse: A guide for ministry leaders and survivors Tim Hein IVP 2018, £12.00, 158pp, ISBN 9781910012475 Reviewed by Hilary Johnson , consultant in child and adolescent psychiatry in Buckinghamshire Tim Hein writes as a Christian leader and from his personal perspective and experience as a survivor of sexual...
Eutychus
Jeremy Hunt the great survivor Being Health Secretary is a poisoned chalice. Even so Jeremy Hunt, survivor of many political storms, has eclipsed Aneurin Bevan and Norman Fowler to become Britain's longest-serving minister in that post: five years and 274 days to be exact (Monday 4 June 2018). A tweet...
The shining face of Moses
'When Moses came down from Mount Sinai with the two tablets of the covenant law in his hands, he was not aware that his face was radiant because he had spoken with the LORD.' (1) Students of forensic science will be familiar with Edmond Locard's famous principle:...