nucleus: November 2018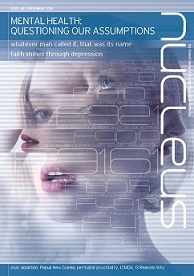 PDF version
(right-click and choose 'save as...' to download)
editorial:state of mind
'No health without mental health' is a commonly heard campaigning cry. An average GP's surgery involves a great deal of mental health work, and problems of this nature are widely seen in the emergency department as well. There has been a great deal of media focus on mental health in...
faith shines through depression
Some Christian teaching has given the impression that if you are depressed then the problem must be spiritual: you must have sinned or failed in some way in your Christian walk. Unfortunately, this can lead to feelings of guilt which can compound the underlying depression. Depression often leads a person...
addiction: closer to home than you think
what is addiction? 'Can you control your drinking?' a colleague innocently asked a circle of doctors, at the bar at 5pm, followed by: 'and why do you think you need to control it?' The issue of control is at the heart of addiction. I will look at psychoactive substances...
whatever man called it, that was its name
One of the central teachings of the Bible, especially emphasised in the letters of Paul, is the principle of the lordship of Christ over all of life. This principle received special attention by Christians fighting back against the modern secular dualism that divided spheres of reality between sacred and profane....
'naming' in clinical psychiatry
So 'naming', creating definitions and classifications is a basic human activity mandated by God. How might medical language illuminate or distort our view of people? how do you know? There are two main schools of thought about knowledge. At one end, there is positivism which relies on hard sciences to 'read'...
essentials: big questions
'I am the true vine… Neither can you bear fruit unless you remain in me.' (John 15:1,4) 'This is to my Father's glory, that you bear much fruit, showing yourselves to be my disciples.'(John 15:8) Catherine Booth, wife of the founder of the Salvation Army was giving a talk...
leadership: lessons from a life well lived
The wooden giraffe was my favourite. Hand-carved by one of my grandparents' friends in Cameroon, it joined my collection of carved animals that gathered on my shelf. By the age of twelve, these were not the only reminders of my grandparents' missionary life overseas. Stories of conversions and miraculous escapes...
be prepared: psychiatry as a medical student
As a medical student, you will encounter mental ill-health across the specialities through which you rotate. As a future doctor, you will continue to encounter it in the patients for whom you care. Indeed, it will almost certainly feature in many other aspects of your life: fellow students, friends, family,...
distinctives: addiction in pregnancy
Edinburgh is famous for its iconic skyline, the festival and its important place in Scottish history. However, in the city also famous for Trainspotting, you don't have to journey far to come face-to-face with the harsh reality that faces many of its residents. A 25 minute bus journey from where...
local groups: medical schools
Changes to the UK and Ireland's medical school map aren't new. If you visit the CMF student office, and sit on the sofa recently installed by Rachel, our Head of Student Ministries, you will be looking directly at a large wooden shield decorated with twelve smaller shields, one for each...
mythbusters: abortion & mental health
Abortion continues to be a major political, cultural and spiritual battleground, and the question of whether abortion is linked to mental health problems in women has long been a part of this debate. Assessing the effect of abortion on mental health is complex and controversial, and findings are frequently conflicting....
my trip to...the ICMDA World Congress 2018
I had the privilege and unforgettable experience of attending the 16th World Congress of the International Christian Medical and Dental Association (ICMDA) from 21-26 August 2018. The Congress occurs once every four years (like the Olympics). It is a gathering of doctors, dentists and medical and dental students who are...
crossing cultures: international experiences
Stuart writes... In previous times, a decision to use your medical skills in low-resource environments inevitably meant committing months, if not years of your life in locations far removed from home, where communication would take weeks. With modern travel and communication technologies, it is now practical to invest time abroad...
counterparts: Papua New Guinea
Greetings to you all in the name of our Lord and Saviour Jesus Christ, and 'the love of God and the fellowship of the Holy Spirit be with you all.' (2 Corinthians 13:14) I am from a small town called Ialibu in the Southern Highlands Province of Papua New Guinea...
a day in the life: perinatal psychiatry
Perinatal psychiatry is a relatively new specialty, which has gained new funding and media interest over recent months. Women with existing mental health problems are at increased risk of suffering a relapse during their pregnancy or the first year of their baby's life. 1 Those who become unwell, either for...
Review: book reviews
Mindful of the Light: Practical help and spiritual hope for mental health Dr Stephen Critchlow 232pp, Instant Apostle ISBN: 9781909728448 Paperback £8.99, Kindle Edition £5.99 Whether you struggle with mental illness yourself or treat those who do, you will meet healthcare professionals who view faith with disdain...
Review tv review: 13 Reasons Why
13 Reasons Why topped Jumpshot's analysis of most-watched original shows on Netflix in the US when released in 2017. (1) The series chronicles the final year of the life of Hannah Baker, a high school senior, who takes her own life. She leaves behind 13 cassette tapes to be passed...
HERO + HERETIC 24: MENTAL HEALTH HEROES
What contributions have Christians made to mental health? For so much of history, those with mental health issues have often been poorly treated: chained like animals and locked in cages. Tragic stories of ostracisation and stigma scar our history books. Things have changed, but there is still much to do. ...