triple helix: Winter 2018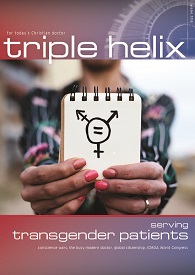 PDF version
(right-click and choose 'save as...' to download)
The divine image and the embodied soul:restoring a theology of the body
W hat do the current drives for assisted suicide, abortion on demand, same-sex marriage, transgenderism, robot rights and presumed consent for organ donation have in common? They are certainly all backed by 'progressive' secularists who occupy the corridors of power. But more specifically they are all based on a sub-Christian...
New BMA guidance on CANH: the devil is in the detail
N ew draft guidance from the BMA allows doctors to withdraw food and fluids from non-imminently dying patients with dementia, stroke and brain injury, provided it is in their 'best interests'. (1),(2) It comes complete with a six-page executive summary, flow charts and tick box forms to smooth the decision-making...
Trivialising gender dysphoria: Government consultation simplifies complex issues
T he Government's public consultation (1) on possible means to make it simpler and easier for people in England and Wales to change their legal gender concluded on 22 October 2018. CMF made a submission. We oppose the move to a self-declaration model, not because we wish to endorse the...
The myth of neutrality: the agenda behind 'value-free' sex education
T he Department for Education has been consulting on draft guidance for schools on Relationships Education (RE) at primary school and Relationships and Sex Education (RSE) at secondary school. (1) Sex education policy has been, and still is, largely driven by concerns about teenage pregnancy, STIs and the adequacy of...
World Medical Association under pressure: moves to weaken ethical stance challenged by Christian doctors
W hen the World Medical Association (WMA) was formed in the 1940s, it was as an ethical bulwark against the extremes of Nazi medicine. It has subsequently maintained a strong support for freedom of conscience and active opposition to euthanasia and physician assisted suicide. (1) However, at the WMA General...
Conscience Wars
key points Freedom of conscience has been under increasing assault by academic bioethicists and by recent assisted suicide legislation in Canada and New Zealand. However, far from hindering patient care, freedom of conscience has positive benefits for patients, healthcare institutions and the individual professional. It also ensures the beneficence of medical care -...
Praying for CMF
'If my people, who are called by my name, will humble themselves and pray and seek my face and turn from their wicked ways, then I will hear from heaven, and I will forgive their sin and will heal their land.' (1) T here is great power in God's people coming...
Serving transgender patients
key points The number of patients presenting as transgender has increased significantly in the last four years. Transgender covers a spectrum of gender identity issues, from non-clinical, alternative gender identities to those with severe distress and mental health issues. Care for transgender patients presents many challenges for GPs in particular but they do...
The busy modern doctor: life in all its fullness or just a very full life?
key points Doctors and nurses are notoriously busy people, and often feel caught on a treadmill and not experiencing the abundance of life in all its fullness. There are external and internal causes of 'busyness', what drives us and what choices we make (consciously and unconsciously). We learn to live in the fullness...
Training for surgery in the developing world
2 ,500 years ago, a man with a good job, in a well-developed country heard a report about the great needs in Jerusalem, where there was oppression, economic hardship and low morale. He had probably never been there and was used to hearing of the problems of that land, but...
Global Citizenship
key points Christian health professionals need to have a global perspective as a God-inspired response to injustice, and in recognition of the inter-connectivity of health problems and solutions. There are many ways to cultivate this perspective - short and long-term overseas service, teaching and training roles, academia and institutional links. There is also...
ICMDA World Congress Review
About ICMDA T he International Christian Medical and Dental Association began in the '50s with informal meetings between different national Christian medical fellowships. In the late '60s the organisation was formally set up. It now has 84 member organisations and many other emerging fellowships and networks of Christian doctors and/or dentists...
Reviews
The Language of Kindness: A Nurse's Story Christie Watson Chatto & Windus, 2018, £9.65, 336pp, ISBN: 9781784741976 Reviewed by Steve Fouch, Head of Communications at CMF S ometimes I forget what a huge privilege it was to be a nurse. Sitting with the dying, being there at the birth of a new life, helping...
Eutychus
Loneliness epidemic While Age UK warns of a looming epidemic of loneliness among the over 50s, a global poll by the BBC suggests that those in their teens and twenties are the loneliest group in society, and not just in the UK, but worldwide. Increased connectivity and the ability to...
'Here I am, Lord'
W hen God first spoke to him out of the burning bush, Moses' simple reply was 'Here I am' (Exodus 3:4). In Hebrew the word is [hineini]. It is with the same word that a young Samuel responded when he thought that Eli, rather than God was calling him in...