nucleus: February 2019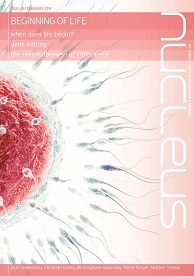 PDF version
(right-click and choose 'save as...' to download)
unborn children
'Your eyes saw my unformed body; all the days ordained for me were written in your book before one of them came to be.' (Psalm 139:16) Today's parents have access to images of their unborn child that would have been unthinkable only a couple of generations ago. Ultrasound allows us...
when does life begin?
When does life begin? This simple question has grown harder to answer as we have better understood the exact process of conception, uterine implantation, and pregnancy. There has not always been consensus within CMF over the answer, particularly over whether conception or implantation signals the start of life. The morally...
the ethics of gene editing
Before the completion of the Human Genome Project (HGP) in 2003, it was thought there were around 80,000 coding genes for proteins. One of the big surprises of the mapping was the actual number turning out to be around 25,000, and the rest of the DNA was initially written off...
the reasonableness of conscience
The last few years have seen a flurry of excoriating critiques of conscientious objection in the academic press. Many argue that it should no longer be tolerated. (1) As one pundit puts it: 'if people are not prepared to offer legally permitted, efficient, and beneficial care to a patient because...
competitiveness
Medical school seems to bring out my competitive side. I'm constantly comparing myself with others and wanting to do better than them. Is this wrong? Or is it right to want to glorify God by working my hardest and doing the best I can? It's natural to want to do...
leadership: vulnerability
My respiratory placement was probably the scariest of medical school. I dreaded Tuesday mornings when the esteemed Prof would take us around the respiratory ward. 'So, Greenall, what did you learn from your reading on psittacosis that I set you last week?' My answer, lacking in any scientific knowledge and...
back to basics: the Christian reading list
My first week of medical school was punctuated by reading lists. Each department presented us with a honed array of textbooks, study guides and flashcards, all promising to be the definitive resource for our learning. Utterly dizzying in its volume and scope, I wondered, 'How on earth can I cover...
distinctives: In the begining...
1. abortion If life in utero is of value to God, then unborn babies surely deserve the protection of the sixth commandment as much as any other human. UK law doesn't reflect this, with the Abortion Act (1967) (1) allowing abortion until the 24th week of pregnancy in specific (though broadly...
local groups: Birmingham CMF away day
The annual Birmingham CMF away day is always a highlight in our busy calendar. You would have thought it would be tricky to drag 40 busy medical students away to a small church south-west of Birmingham on a rainy and cold day in November. However not much dragging was needed...
counterparts: Brazil
A few weeks ago, I finished my sixth year of medical school in Brazil. I am still in the midst of evaluations and tests, but hopefully I'll be able to get a residence in clinical neurology. Looking back, I can't put into words how great has been the faithfulness of...
my trip to...South Africa
The best thing about medical school is the elective, a long-anticipated opportunity to explore what it's like to be a doctor elsewhere in the world. Having just completed finals and full of medical knowledge, I felt emboldened and ready to serve in sub-Saharan Africa… how wrong I was! I travelled...
author review: Peter Singer
1975 was the year that the Vietnam War ended; the year Jaws was released in cinemas worldwide; and the year the animal rights movement was brought to the forefront of philosophical and ethical debate when Australian born philosopher Peter Singer released his book Animal Liberation, in which he popularised the...
Reviews: news reviews
is 'aid' always good? Strings Attached (1) is a documentary film produced by Culture of Life Africa, (2) in association with Lux Lab under the presidency of Obianuju Ekeocha. She is a speaker, social activist and specialist biomedical scientist. The film was launched at a preview event in the House of...
HERO + HERETIC 25: MOTHER TERESA 1910-1997
How did a little nun become a Nobel Prize winner, the most admired person of the 20th century (1) and 'the greatest Indian' since Gandhi? (2) All these were bigger feats given that she was born Albanian, with the less memorable name Anjezë Gonxhe Bojaxhiu. She renamed herself after Therese...