triple helix: Spring 2019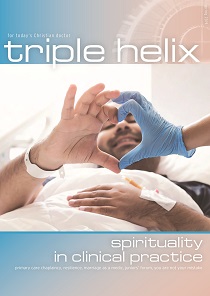 PDF version
(right-click and choose 'save as...' to download)
Looking to the future without forgetting the past
Two of the besetting sins of humanity are found in our attitudes to the past and the future. At one extreme we cling to the past, decrying the present and fearing the future; the cry of our heart is 'Things are not what they used to be!' At the other,...
Backing a dangerous and unnecessary change:Royal College of General Practitioners support decriminalisation of abortion
In February this year, the Royal College of General Practitioners (RCGP) announced their support for the decriminalisation of abortion. (1) This followed a consultation to which only 8.2% of their members responded - 4,429 of 53,724 members. 62% of those responding said they supported decriminalisation, which would entail removing the...
Children with gender dysphoria:Is it time to press pause on hormone 'treatments'?
When Marcus Evans quit his governorship of the Tavistock and Portman NHS Trust in February this year, it was over the 'climate of fear' and attempts to 'dismiss or undermine' concerns being raised by its own clinicians. While many of his claims are contested, an independent report backed up some...
Fetal analgesia guidance: After three decades the Department of Health recognises fetal pain
The 18th century philosopher Jeremy Bentham wrote of animals: 'The question is not "Can they reason?", not "Can they talk?", but "Can they suffer?"' Professors Glover and Fisk, in their 1999 paper (1) say that Bentham caused such a change in attitude towards animals that in the UK, even frogs...
RCP assisted suicide poll:Royal College of Physicians polls its members on assisted suicide
The Royal College of Physicians (RCP) announced on 10 January this year, its intention to poll its 35,000 members on assisted suicide. The poll commenced on 5 February and finished on 1 March 2019. The college last polled its members in 2014 when 44.4% of its membership thought the college...
Including spirituality in clinical care
key points Most people understand that social, psychological and spiritual factors affect their health and recovery from illness, even if they do not use those terms. Spiritual distress is a distinct form of suffering and needs distinct diagnosis and interventions - some of which require specialist skills. However, all health professionals can...
The body of Christian doctors
Being a junior doctor can be lonely at times. Switching rotations every four to six months, changing hospitals annually and then moving as you find training vacancies means it can be hard not to feel alone - not to mention the difficulty getting to church between on calls and visits...
Primary care chaplaincy
key points Most people we care for are aware of a spiritual/ existential aspect of their health problems, but do not always know how to articulate it. Likewise, Christians working in primary care know how spiritual issues affect health, but there are not always clear pathways to address these needs appropriately in...
You are not your mistake: Compassionate responses to clinical errors
key points Clinical errors happen to almost all doctors and nurses at some point in our careers. How those errors are handled by managers and colleagues has a huge impact on the well being and career of the person who has made the error. Workplace and team culture is the main predictor...
Resilience
key points The ability to recover from setback and trauma and the ability to persist in the face of stress and opposition are the key elements of resilience. We need to work at maintaining our own resilience - mentally, physically, relationally and spiritually. Ultimately, resilience is not our goal, but to grow spiritually...
Marriage as a medic
key points God ordained marriage as a good thing - bringing a man and a woman together to form a new unit or team. It thus reveals something of the nature of God and his relationship with his church. Because of this, our choice of marriage partner is very important, and not...
Patients are people too
key points Having time to interact meaningfully with patients is a big challenge in the clinical setting. Taking time to go deeper and wider in our interactions helps us go deeper into the needs of our patients and to see them as rounded human beings, not just clinical problems. This attention to the...
Reviews
From the Psychiatrist's Chair Selected works of Dr Monty Barker Monty Barker Words by Design, 2018, £12.50, 220pp, ISBN: 9781909075672 Reviewed by Peter May, a retired GP in Southampton In 1970, medical students from the Royal Free Hospital School of Medicine were allowed just one month for an elective period. I chose psychiatry. Dr Monty...
Do not be burdened by possessions
At a drop-in centre for refugees and asylum seekers, I deposited my few things (which were in a plastic carrier bag) in the back room, as instructed, and went to observe the work. Drinks were available free of charge, and clients could help themselves from a table bearing food donated...