triple helix: Summer 2019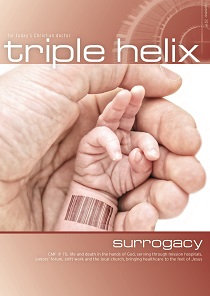 PDF version
(right-click and choose 'save as...' to download)
Age of anxiety
On my bookshelf in the '90s was a volume of poetry entitled The Age of Anxiety. It contained a series of poems (of varying quality) on the worries of the decade - AIDS, climate change, terrorism, economic instability and war. The title of that anthology came from WH Auden's epic...
Mumsnet encourage nurses to return to work: Only scratching the surface of the real need
At the start of June, Health Education England (HEE) launched a return to practice campaign with Mumsnet. (1) The aim is to recruit at least 1,000 returning nurses into adult, child, mental health and learning disability nursing per year, and at least 100 returning nurses into general practice by March 2020....
Eugenics: The idea that never went away
In 2016, the State of Indiana passed the 'Sex Selective and Disability Abortion Ban'. This would have prohibited any abortion based solely on race, gender or disability. Following opposition from pro-abortion groups, a federal district court blocked enforcement of the law, declaring it unconstitutional. The State of Indiana appealed to...
What next? Withdrawal of Clinically Assisted Nutrition and Hydration
The Supreme Court has ruled (1) that clinically-assisted nutrition and hydration (CANH) may be withdrawn from patients in prolonged disorders of consciousness (PDOC) without court approval, where the family and the clinicians agree it would be in the 'best interests' of the patient and the legal requirements of the 2005...
New abortion statistics published: Alarming trends emerge as rates of abortion increase
The latest abortion statistics from the year 2018 (1) show that abortion numbers have hit a ten-year high, with 205,295 abortions in England and Wales, an increase of 7,762 abortions from the previous year. A breakdown of the figures shows some particularly disturbing developments. For example, there has been a...
CMF@70
key points CMF came into being at a time of great social, technological and spiritual change in the UK, to help Christian doctors support one another. Over the last few decades, CMF has become more global and multidisciplinary in its ministry and membership. The core values and beliefs that shaped the formation of...
Life and death in the hands of God
key points Life and death are not only universal, human experiences, but understanding them is central to our professional practice. The Bible has a radical perspective on both life and death and what they mean for us based on our relationship with God through Jesus Christ. Understanding what the Bible says about life...
Mission hospitals: enduring witness or outdated concept?
Anti-malarials? Check. Medical French Dictionary? Check. Oxford Handbook of Tropical Medicine? Check. Right then, off to Madagascar. And so, on the 26 January 2017, I found myself climbing into a small twin-engine Cessna on my way to a town called Mandritsara in the north of Madagascar. I was carrying two huge...
Surrogacy
key points The unfulfilled desire for parenthood is a sad reality for many, and we must exercise compassion for people considering reproductive options. As with any reproductive technology, we need to consider: Just because we can produce a child using this technology, is it ethically and morally justifiable? Commercial surrogacy arrangements carry...
Juniors' fellowship groups
HULL New city, new job, new church... This is a familiar pattern for junior doctors, as training requires moving every few months or years. It's easy to feel unsettled and without anyone to turn to when life gets tough. This was my position when I first joined the Hullies in this...
Shift work and the local church
Becoming an F1 changes your relationship with your church in often dramatic ways. Starting in a new town, a new church and with new work patterns present a wide range of practical and spiritual challenges. Finding ways of meeting with and getting to know people in your church outside regular meetings and...
Bringing healthcare to the feet of Jesus
key points The NHS needs a compassionate, healing Christian presence as it deals with internal and external stresses. Christian health professionals cannot do this alone - we need one another. Working intentionally and prayerfully together in obedience to Christ, we can have a transformational effect on our workplaces and communities. I f you were...
Reviews
I want a Christian psychiatrist: Finding a path back to mental and spiritual wellbeing Dr David Enoch Monarch Books, 2006, £8, 192pp, ISBN 9781854246844 Reviewed by Claire Wilson, a Clinical Research Training Fellow in General Psychiatry in London ' I want a Christian psychiatrist' is the premise for Dr Enoch's reflections and is prompted...
eutychus
Crowdfunding treatment Resource allocation is not a glamorous topic, but it can be a matter of life or death. We often pride ourselves in the UK that we have a health system that allocates funding according to need rather than ability to pay. That is unless you have a rare condition...
Our heavenly Dad
'Because you are his sons, God sent the Spirit of his Son into our hearts, the Spirit who calls out, 'Abba, Father.' So you are no longer a slave, but God's child; and since you are his child, God has made you also an heir' Galatians 4:6-7 At a recent...