triple helix: spring 2003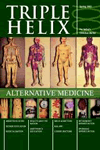 PDF version
(right-click and choose 'save as...' to download)
See Zurich and die? - Reality TV crosses new boundaries
On 20 January a British man with advanced motor neurone disease ended his life in Switzerland with the help of a group called Dignitas. Reginald Crew aged 74, a retired car worker from Liverpool, is thought to be the second such Briton to visit this controversial 'clinic' in Zurich. His...
The future of higher education - There is much in the Bible about debt
The Future of Higher Education white paper[1] proposes radical reform of university funding in England and Wales. Up-front tuition fees will be abolished and instead, universities will charge up to £3,000 per year of a course, to be paid after graduation when the student earns over £15,000. Education Secretary Charles...
Alternative medicine - A Christian perspective
George Smith introduces a series on a growing phenomenon Alternative medicine began to flourish at the end of the 1970s. Before then, therapies such as homeopathy, acupuncture, osteopathy and herbal medicine had dedicated adherents but were considered distinctly suspect and unconventional. In 1914 the General Medical Council issued a...
Beyond reasonable boundaries
The British Medical Journal recently devoted an entire issue to the subject of 'Too much medicine?' The term 'medicalisation' was much in evidence, having been appropriated for any situation where medicine has expanded outside its reasonable boundaries; where medicine does more harm than good or interferes too much with life....
Health and the nation
The NHS is failing for socioreligious reasons, argues Nick Spencer Nigel Lawson once described the NHS as the closest thing the English have to a religion. This may be somewhat rhetorical but it is still rooted in reality. Health has been the top spending priority in the British public mind...
Abstinence education
'Why are we not being told the truth?' asks Trevor Stammers If a lie is repeated loudly enough and often enough, it is not surprising that many people who ought to know better will believe it. I was surprised though, that the Chief Medical Officer did not check the...
Breaking habits of a lifetime
In contrast to the cold isolation of prostituting themselves or thieving for drugs, wearied by guilt, bitterness and rejection, most say they stay in Betel simply because they feel loved Imagine Paul arriving on your doorstep. After thirteen years injecting heroin, ten of those doubling up on methadone, he's been...
A tale of Two Sams
It seemed ambitious, but they sensed God could use them to bless war torn Sri Lanka and also Southern India Six years ago Sam Mutheveloe, a GP in Milton Keynes, invited Sam Thevabalasingham to come to the UK to recuperate after a further outbreak of violence in Colombo. It seemed...
Plugging a Huge Gap
Malawi is a small, landlocked and very poor country in central Africa. It has been in the world news a lot recently. There has been a severe famine, but it has enormous needs in many other areas. It is estimated that there are 50,000 people who need elective orthopaedic surgery....
Out of the recycle bin
In June 1999 it seemed right to resign from a consultant post in the NHS and move into what might be compared to a recycling bin. At the time I felt I would like to be somewhere in the 'less developed world'. I thought I would like to be teaching...
Open House - Junior Doctor Style
Most house officers are shocked and ill-prepared when faced with all the responsibilities and lifestyle changes that go along with house jobs. Tiredness, cynicism and materialism soon begin to overshadow the enthusiasm felt on graduation day. Even in these shorter New Deal days, a junior's life can be at odds...
Eutychus
Patient-Assisted Dying Bill A new bill aiming at the legalisation of euthanasia had its first reading in the House of Lords on 20 February. It is due to be debated in May 2003. Designer Baby Decision Triple Helix readers may have missed the fact that just before Christmas Comment...
Hand to Hand - a Marine's Journey from Combat to Healing (Book Review)
Written by Marine Commando Nigel Mumford following the reported miraculous healing of his sister, this book covers the story of his journey through which he overcame disorders such as posttraumatic stress syndrome to become a minister of healing. As the reviewer, I have two relatives with chronic, incurable diseases -...
Jesus, MD (Book Review)
David Stevens starts from the premise that very few people these days have contact with shepherds, princes or kings, but to describe Jesus in terms of the Great Physician will strike a chord as everyone has had contact with a doctor. Stevens is currently the Chief Executive Officer of our...
Rebuilding the Matrix - Science and Faith in the 21st Century (Book Review)
This book on the interface of science and faith is a real work of scholarship that should be in the library of all serious readers. It is written by Denis Alexander, a Fellow of St Edmund's College, Cambridge and current Chairman of the Molecular Immunology Programme at the Babraham Institute....
David Livingstone: The Man behind the Legend (Book Review)
This book is the third biography of David Livingstone to appear in the last few years. It avoids the modern tendency to historal revisionism so common in many biographies today and provides a clear, honest and straightforward account of the life and work of Livingstone as a pioneer Christian missionary...
The Saline Solution - Sharing Christ in a Busy Practice (Book Review)
Christian doctors often face a challenge and dilemma. We know that we have been called by God to be witnesses to Jesus. We work with patients who often have anxieties and spiritual needs as well as physical illness. We would like to address these needs but feel uncertain about what...
Tales from the Congo Forest (Book Review)
At a recent whole day meeting on 'Surgery in the Tropics' at the Royal College of Surgeons in London, several speakers regretted that little had changed in tropical Africa. Indeed, thirty years after some had spent time working there, conditions appear to have regressed economically and medically. This collection of...
What Could I Say? (Book Review)
Peter Hicks has set out to produce a handbook for the Christian lay counsellor or 'listening friend'. The result is admirable and would prove a valued resource for any caring Christian organisation or home. The first section is a short description of some of the major principles of Christian counseling....
Final Thought - Judging by appearances
She was only 15 years old. Both she and her parents were in tears when they came to my clinic in Tanzania.The story came tumbling out between her sobs. She had just been expelled from school.They said she was pregnant. She vehemently denied it saying that she didn't even have...