triple helix: winter 2003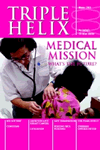 PDF version
(right-click and choose 'save as...' to download)
The consultants' contract - Family friendly first
Many people will find it hard to understand why hospital consultants in England and Wales should have rejected a deal promising a 20% rise in starting salary to new consultants and pay rises of 9 to 24% across the board. But the reality is that most doctors do not go...
The sex lottery - More condomania
'Don't play the sex lottery. Use a condom' is the slogan driving the government's new £4 million 'safe sex' campaign to try to curb the rising trend of sexually transmitted diseases, up 61% in England, Wales and Northern Ireland since 1991. The www.playingsafely.co.uk website's brave claim that 'only condoms provide...
Egg freezing - A step in the right direction
Helen Perry, a Jehovah's Witness from Shropshire, has become the first woman in Britain to have a baby using a frozen egg, due to a new anti-freeze method that increases egg survival rates. Over 100 babies have now been born from frozen eggs worldwide, and new results presented on 15...
Abortion and breast cancer - Is there a link?
Greg Gardner probes a ticking time bomb If a scientist discovered a risk factor that increases the chance of breast cancer by 30%, you'd have thought it would have spurred huge headlines and impassioned demands for action. With the exception of AIDS, no other health issue has been...
Litigation, blame and justice
Charles Foster looks at Christian options in an increasingly litigious society In 2001 the net value of known and anticipated clinical negligence claims within the NHS was £4.4 billion, almost doubled from £2.3 billion in 1998.[1] In England, the NHS received around 10,000 new claims in 1999-2000. The rate...
Late termination
Two stories about late termination of pregnancy for fetal abnormality have recently hit the headlines. In the first, a Cambridge student made an allegation of unlawful killing after discovering, in the official national statistics, a case of abortion after 24 weeks for cleft lip and palate.[1,2] The police will have...
The pearl effect
Twenty years after a paediatrician broke the news that her disabled baby would not survive, a mother spoke about how she had been introduced to the hospital chaplain. 'We'd not been religious before but my husband and I both became Christians and so did thirteen members of our family. Now...
Medical Mission: What's the future?
Extracts from the 2002 Rendle Short Lecture by Valerie Inchley There is an increasing amount of scholarship related to mission theology generally, but a paucity of literature related to medical mission. As Wilkinson points out, it was because medical missions arrived late on the mission scene that they...
Posting Rice Pudding
The rice pudding had been pushed around my bowl enough times to convince me that no efforts to rearrange or compress it would make it appear that I had eaten anymore than I had. 'Just think of all those starving people in Africa who would love to eat that and...
Meeting disappointment head on
As a teenager, I read these words on a calendar: 'Disappointment - His appointment' Change one letter, then I see That the thwarting of my purpose Is God's better choice for me.' [1] I had no idea then how relevant those words would become to me personally....
Eutychus
Doctors and lethal injection Almost all executions in the United States are now performed by lethal injection (155/160 since 2000) and doctors have helped in the development of this method, an article in the BMJ reports. Lethal injection is unique because it simulates a medical procedure - the intravenous...
From Medicine to Miracle - How My Faith Overcame Cancer (Book Review)
As a teenager, Mary Self developed a rare tumour of her leg, subsequently shown to be a mesenchymal chondrosarcoma. She had an above-knee amputation. Sixteen years later, when she might reasonably have thought she was cured, she was unfortunate enough to develop a lung metastasis. This was successfully removed by...
Caring Well: Religion, Narrative and Health Care Ethics (Book Review)
Doctors have long struggled with ethical dilemmas such as the distinction between killing and letting die. This book uses narratives, like those written by two compassionate physicians about dying patients, to explore doctors' motives and to come to a clearer understanding of this difficult boundary. Other essays look at the...
Look No Hands (Book Review)
Although born without arms as a result of thalidomide, Brian Gault's description of his life is warm and encouraging, intertwining the themes of his Christian faith and living without arms. His story still has pertinence today. Thalidomide is used in developing countries to treat leprosy but sadly, inadequate explanations, or...
Genius, Grief and Grace (Book Review)
The notion that personal pain can be productive is generally unpopular, but here Dr Gaius Davies shares his professional perceptions about eleven afflicted yet famous people. With names well known to a Christian readership their genius has not often been attributed to a common background of suffering. Dr Davies traces...
Doing Member Care Well - Perspectives and Practices from around the World (Book Review)
What is member care? The editor defines it as 'the ongoing investment of resources by mission agencies, churches and other organizations for the nurture and development of missionary personnel. It focuses on everyone in missions (missionaries, support staff, children and families) and does so ... from recruitment through to retirement'....
Letters
Stealing doctors Stealing nurses is an even bigger problem, argues independent pharmaceutical consultant John Griffin. Jason O'Neale Roach's article on 'Stealing Doctors' (Triple Helix 2002; Autumn:14-16) is timely, but there is another facet to the theft of health care workers from less affluent countries to bolster up our needs for...
Grateful to be alive
She walked into the antenatal clinic looking the picture of health. It was her first visit and I was recording her details. At 26 years of age she was expecting her first baby and was excited at the thought of being a mother. 'Have you had any serious illness in...