triple helix: autumn 2002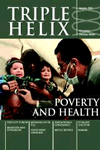 PDF version
(right-click and choose 'save as...' to download)
GMC Guidance - A big improvement on the first draft
The General Medical Council finally published its guidance on withdrawing treatment in August 2002 after a consultation period of over a year. The final version of Withholding and Withdrawing Life-prolonging Treatments: Good practice in Decision-making is a far more balanced document than the original draft, and a considerable improvement on...
Pray for Rowan Williams
Church affairs are generally outside the scope of Triple Helix, but the choice of Rowan Williams as 104th Archbishop of Canterbury warrants an exception to the rule. We urge CMF members and the wider readership of Triple Helix to uphold Dr Williams fervently in their prayers, especially over the next...
Fertility furore - Reaping the Whirlwind
Black twins to white parents? Custody disputes over frozen embryos? An embryo superstore? This summer season's fertility fiascos have further highlighted the fact that the end of providing infertile couples with babies, does not justify unethical means (Romans 3:8). Whilst welcoming ethical technologies to help infertile couples my own sympathies...
Poverty and Health
This is a tale of two vehicles. The rugged Land Rover dipped and jolted: the track had not been cut decisively through the bush with its twined undergrowth because few vehicles ever went that way. The track was for people. The dry season was at its driest and there was...
Psychological Trauma After Abortion
Do women experience psychological reactions after abortion? If so, what are they? Can we predict them? What do we make of the case of a woman who is applying for legal aid to sue the NHS for the psychological trauma she claims to have experienced after an abortion?[1] What are...
The Morning After Pill
The Morning After Pill (MAP) is an umbrella term for various regimens of hormonal emergency contraception. It is licensed for use up to 72 hours after unprotected sexual intercourse, provided the woman's menstrual bleed is not overdue.[1] In January 2001, amidst much public and medical debate, MAP became available over the...
Good News Censored?
'Doctors warned against preaching to patients' was the headline provoked by the Spring edition of Triple Helix.[1,2] The place of evangelism in doctors' daily work is a sensitive issue and the response was a strong instruction that doctors may not force their beliefs onto patients. 'It is totally inappropriate to...
Faith Moving Mountains
There's always a big temptation to sign up for a Christian Conference on account of the exotic location. I had always wanted to visit Taiwan. It had always captured my imagination even though I knew little about it and had met few people who'd been there. So there was a...
Battle Fatigue
Half of consultants and a quarter of general practitioners are planning early retirement. Changes in the health service, patient demands, stress and dissatisfaction with their roles are dominant reasons. Our profession, devoted to patient care and health promotion, does little to prevent stress damage amongst its own members. Until recently...
Stealing Doctors
Staff recruitment and retention in the National Health Service (NHS) has dominated the media health agenda in the past few months. The latest NHS saga reveals a morally questionable twist in the story. Overseas recruitment of health care workers has emerged as a key strategy in the government's attempts to...
A Shetland-Samara Partnership
In 1996, there was a severe downturn in the Russian economy after the collapse of communism. There was so little money available for the provision of health care that people dying of cancer in Samara, Russia's 4th largest city, were being given no medical and nursing care at all. The...
Eutychus
Stress and emotional exhaustion linked Emotional exhaustion is the key precursor of stress according to a longitudinal study of UK doctors published in The Lancet. High levels of personal accomplishment increased stress, but by contrast depersonalisation - treating patients as objects rather than as people - lowered stress levels. Might...
Jesus the Healer - Paradigm or Unique Phenomenon? (Book Review)
This book is a paradox. It has an intensely relevant message that broadly states that we should not equate the healing ministry of Jesus with our own Christian healing ministry; his was unique. Jesus' healings were unique bacause they were more than just healings, indeed, they were even more than...
What are you feeling, Doctor? (Book Review)
If you find practising medicine easy then this book is not for you. For the rest of us it is a thoughtful and at times embarrassingly relevant read. The book is the result of a Balint group recording and analysing their work together, and then being brave enough to share...
Lives In The Balance (Book Review)
This little book seeks to bring a message of hope to those people who are suffering from a broad range of eating disorders including binge eating disorder (compulsive eating), bulimia nervosa and anorexia nervosa. In addition, there is a section on eating disorders in men, which are much rarer, plus...
I'm Not Supposed to Feel Like This (Book Review)
This is an excellent book, written by a Senior Lecturer in Psychiatry, the pastor of a Baptist Church and a Consultant Psychiatrist in Leeds. It provides a Christian view on anxiety and depression, and is written for sufferers and their carers as well as providing practical help for church leaders....
Health, Healing and God's Kingdom (Book Review)
'Compassion is the immune response of the body of Christ. ...What sets (the church) apart is not that its members suffer, but that the whole body responds to that suffering by sharing it'. Writing from personal experience, Meredith Long nevertheless draws upon an eclectic variety of African resources. This is...
A Practical Workbook for the Depressed Christian (Book Review)
I welcome this book, as I did the first edition in 1991. The author has been a GP since 1976 and is described as a writer of three novels and Christian music. Dr Lockley writes out of a wide factual knowledge of depression as well as experience in his work...
Abortion: Choosing Who Lives (Book Review)
Rick Simpson, a parish priest, has written this booklet in the Grove Books series as 'a Christian ethical reflection on the process by which abortions are authorised in England and Wales'. He intentionally discusses neither Christian ethical arguments about abortion nor other important questions within the abortion debate, such as...
Service with Authority
'Well, I don't know. You're the doctor!' I've heard this response from time to time in the consulting room. Efforts to involve the patient in decision making are not always understood or appreciated. At times patients want to leave everything in the doctor's hands. At other times it seems that...