triple helix: summer 2000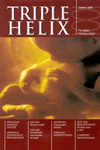 PDF version
(right-click and choose 'save as...' to download)
Physician Assisted Suicide
The British Medical Association, has rejected a motion attempting to tighten the association's policy on physician assisted suicide. At its annual representative meeting in London on 27 June delegates welcomed the conclusion of the 3-4 March BMA consensus conference [1,2] to reject moves to change the law on physician assisted...
BMA Guidance Endangers Doctors
Doctors who act in accordance with the BMA guidance on Withholding and Withdrawing Life-prolonging Medical Treatment may be breaking the law according to the Scottish Deputy Minister for Community Care, Iain Gray. The BMA guidance, issued on 23 June 1999, condones the withdrawal of artificial nutrition or hydration from patients...
Surrogacy Fiasco
A lesbian couple from Hollywood have adopted twin girls in a transatlantic surrogacy fiasco involving six other adults. An Italian businessman and his Portuguese wife living in France had commissioned a British surrogate, Claire Austin, to have embryos, produced from the eggs and sperm of two strangers, implanted by a...
Educating African Doctors: Showing How it Can be Done
It is shameful that about 45% of the people of sub-Saharan Africa live on less than one dollar a day, a proportion that has scarcely changed in the last eleven years, the very period when the structural adjustment programmes of the World Bank and the IMF should have been having...
Appraisal, Governance, Revalidation: Nothing but Aggro?
Every doctor in the UK is about to face unprecedented quality control under the processes in the title. What's going on? And how should Christians respond? Clinical governance is about quality in institutions and was recently defined [1] as 'a framework through which NHS organisations are accountable for the quality...
Far from 'Philadelphia'
In perhaps the most moving scene in the film Philadelphia, Tom Hanks as Andrew Becket, a lawyer wrongfully dismissed from his job because he has AIDS, is in his flat discussing his case with his defence counsel, Joe. An opera is quietly playing in the background. Becket, suddenly caught up...
Gloom and Glory
The HIV pandemic in the year 2000 is confronting the world with enormous challenges. The statistics and the predictions for the 21st Century are indeed gloomy. By the end of 1999 at least 50 million people had been infected by HIV. 33.6 million were still living with the effects of...
The New Ethics of Abortion
It is striking how the age-old debate about abortion seems to have changed irreversibly just in the last few years. The stereotyped confrontation between the 'right to life' of the fetus and the 'right to choose' of the mother has become much more complex. Some commentators are now talking about...
Not for Resuscitation
In a recent British Medical Journal editorial,[1] Professor Shah Ebrahim drew readers' attention to the dossier of over 50 cases assembled by Age Concern England and publicised in the national press where 'not for resuscitation' was posted on the notes of elderly patients without this being discussed with either patient...
Eutychus
Where have the women gone? A study released by UNICEF, the United Nations Children's Fund, has claimed that selective abortions, as well as infanticide and inferior access to food and medicines, have led to there being 60 million fewer women globally than demographic trends suggest there should or through neglect, simply...
RevieWWWs with Cyberdoc
Cyberdoc reviews homosexuality online... Homosexuality remains a controversial subject amongst Christians. The electronic version of the British Medical Journal contains a veritable avalanche of e-letters mostly by Christian doctors in response to a 1998 personal view by Sheard (BMJ 1998;317: 1532 (28 November)). This claimed that Christian doctors who believed homosexuality...
Dutch Courage - In Sickness and in Health (Book Review)
This small and easy to read autobiography of Dirk van Zuylan is an eye-opener for those caring for patients with long term illnesses, and more specifically those who have renal failure. The book follows his life through his childhood of moving to Canada and then back to Holland. It is...
Christians and Bioethics (Book Review)
This book began as a series of lectures in Cambridge. Its six chapters are of interest as much as for their authors as for their subjects. They include: 'Cloning: After Dolly', by Rev Dr John Polkinghorne, a member of the Donaldson Committee, an expert advisory group on therapeutic cloning; 'Genetic...
Miraculous Healing (Book Review)
This classic book on healing, described by Dr Martyn Lloyd-Jones as the best he had ever read on the subject, was first published in 1931 and has recently been reprinted for a new generation of readers. The author, Henry Frost, worked for the China Inland Mission (now OMF International). He...
Breakdowns Are Good For You! (Book Review)
This is an extreme book. The authors, one of whom worked as a doctor in psychiatric hospitals for four years before entering the Anglican ministry, believe that self pity is at the root of all 'mental illness'. Breakdowns are considered good because the patient comes to a moral realisation that...
Letters
Postcoital contraception Sheffield GPs Mark Houghton and Chris Bronsdon continue the debate about the status of the embryo Mandi Fry (Triple Helix 1999; 9:6,7) attempted to help us think through in advance a right practice on 'emergency contraception'. However we feel it is disappointing that her reasons for choosing implantation as the...
Refined by Fire
One of my favourite childhood memories was waiting for goods trains to pass the level crossing a few miles down the dusty road from our farm in inland Australia. Most of the cargo, on its way to the coast from the remote mining town of Broken Hill, was raw silver,...