triple helix: winter 1999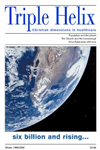 PDF version
(right-click and choose 'save as...' to download)
Editorial: 'A step further than Sodom?'
Is six billion people too many? At one extreme are those who see human population growth as the planet's major problem - through exacerbating starvation, environmental destruction and slaughter. At the other are those who see advancing technology and international collaboration producing a world where everyone reaches the consumption levels...
Population Control: good stewardship?
I first became interested in population issues when a lecture on human numbers from my Tutor at St John's, Cambridge in 1959 'rang many bells'. Born of CMS missionaries and brought up in the Great Lakes Region of Africa, I have since seen how many of Africa's problems have been...
Population Control: a sinister ideology?
My interest in population issues was first kindled as a medical student when I heard Catholic Priest and writer Rene Bel talk about 'a conspiracy against the poor' in West Africa: a neo-colonialism based on contraception, abortion and sterilisation was being heavily funded by certain groups in the West who...
The Church and the homosexual
A series of recent events seems to suggest that public opinion in the Western world is moving inexorably in favour of tolerance of homosexuality. In France in October, the National Assembly and Senate approved partnership contracts giving a new legal status to cohabiting non-married couples - heterosexual or homosexual. Non-sexual...
Among All Nations 10
Articles in this edition Out of the Frying Pan into the Fire by David Clegg, former MMA HealthServe Medical Director Tradition in Transition Ian Campbell and David Clegg describe how AIDS in Zambia has made the hospital for the community become the hospital in the community Learning about Leprosy Miriam Noble reports on...
Eutychus
Italy says no Now what's the question? The questions are about gamete donation, embryo research, embryo adoption and embryo freezing and Italy has said 'no' to all these in stringent draft laws to regulate fertility services. The law has yet to be passed by the Italian Senate but would be by...
Handbook for Mortals -Guidance for People Facing Serious Illness (Book Review)
In this book there are many helpful comments and suggestions to help people facing serious illness. This perhaps is its greatest strength. I cannot think of many books for the patient but legion are the titles written for the healthcare professional. The opening chapter is entitled 'Living with serious illness'....
Use and Misuse - a Christian Perspective on Drugs (Book Review)
'Drug use is everybody's problem.' So begins the introduction, and in the remainder of the book Ollie Batchelor proceeds to demonstrate that 'everybody' includes Christians - and the church. He builds his case carefully, beginning with a broad historical overview of drug use and legislation, showing how attitudes towards specific...
The Thorn in the Flesh (Book Review)
Every Christian working in healthcare would find this book a valuable resource. Dr Kendall has taken the sermons he preached at Westminster Chapel in 1998 on 2 Corinthians 12:7 and focused on eleven problems facing contemporary society. As individuals and in family and public life we are challenged to make...
Readers' Letters
To strike or not to strike? Junior doctor Richard Brighton is one of the British Medical Association negotiators: I read the article 'To strike or not to strike?' with interest. As one of the negotiators for junior doctors, it is a subject that has been very close to my heart...
RevieWWWs with Cyberdoc
6 billion people - a cause for celebration or commiseration? The The Population Research Bureau site makes no secret of its views. Medical abortion is advocated as an answer to this crisis on its front page. Although there seem to be pages of information I cannot bring myself to hang...