triple helix: autumn 1999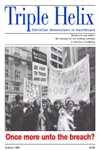 PDF version
(right-click and choose 'save as...' to download)
Editorial: 'Health for all by the year 2000'
In September 1978 representatives of 134 nations met under the auspices of WHO and UNICEF at Alma Ata in the south east corner of the then Soviet Union, near the Chinese border, and drafted a document which has become known as the Alma Ata Declaration. Its message was 'Health for...
To strike or not to strike?
A recent British Medical Association survey of junior doctors found that 95% would back industrial action, short of going on strike. This industrial action might include work to rule, refusal to carry out administrative duties, refusal to participate in waiting list initiatives and refusal to act as porters. The core problem...
Postcoital contraception
The rate of unwanted teenage pregnancies in the UK is one of the highest in Europe at 8.2 per 1000, and one of the 'Health of the Nation' targets is to decrease this by 50% by the year 2000[1]. Effective contraceptive services are one way in which the government is...
Refresher Review 1999
Programme The first week was mainly spent on medical, nursing and primary health care topics. These included malaria, medical education, fertility and infertility, psychiatry (both community and the psychoses), practical perinatal care, community medicine, a session on the UKCC for nurses, respiratory diseases, tropical medicine, AIDS - both clinical and community...
'I call you gods'[1]
Is there an affinity between our drive for knowledge and expertise and the feeling of let-down, even of guilt, when, despite one's best compassionate efforts, someone we have cared for dies? Is there something within the human psyche which desires to be divine and is sometimes cripplingly disappointed when it...
Among All Nations 9
Articles in this edition Carers who lead and leaders who care by Howard Lyons, MMA HealthServe Chairman 10 Good reasons for staying The full original article by Harold Adolph was published in Today's Christian Doctor, the Journal of the Christian Medical & Dental Society of the USA, Volume XXX, No.2, Summer 1999,...
Eutychus
Time for a 'Universal Sabbath'? At a conference on cloning organised by CORE (Comment on Reproductive Ethics), former Chief Rabbi Lord Jakobovits argued for the 'Universal Sabbath' where scientific advances are scrutinised as the world was after the six days of its creation. Just as God rested, it is now time...
The Journey - a road to post-abortion recovery (Book Review)
'Can you keep a secret? Years ago I had an abortion and never recovered.'The Journey states it takes at least ten years to move out of denial and seek help after choosing abortion. The effects of post-abortion syndrome (PAS) are devastating but in this manual from CARE for Life we...
The Practice of Christian Healing (Book Review)
In this book Roy Lawrence sets out to de-mystify Christian healing. By a combination of 'scripture, logic and experience', he endeavours to make a case for the practice of Christian healing to be the norm within every church congregation and possible for every Christian. Although acknowledging that some may have...
Euthanasia: the Heart of the Matter (Book Review)
Another book on euthanasia? Yes, but a different one. The press release describes it as 'a collection of interviews with ten well-known people who are helping to shape the debate surrounding the practice of euthanasia in this country'. There is a wide range from all sides, including Ludovic Kennedy (president...
Homoeopathy - What Are We Swallowing? (Book Review)
I get the strong impression that many health professionals are profoundly ignorant about homoeopathy. The popular myth is that this harmless idea believes in the efficacy of weak solutions. Few people seem to realise that the sort of dilutions advocated by homoeopaths would need a volume at least the size...
Readers' Letters
Postcoital 'contraception' St Helens GP Mike Clayton agrees with John Holden's views in the Summer 1999 edition about the morning after pill: I do not prescribe hormonal postcoital contraception (PCC) either for reasons similar to those John Holden outlined. Some take a broad definition of 'conception' as not so much...
RevieWWWs with Cyberdoc
Cyberdoc reviews the Internet on healthcare strikes The BMA junior doctors site is not surprisingly one of the most useful on this subject on the Internet. The only criticism is that it seems to focus too much on doctor readers and could be more welcoming to non-medical readers. The site has...