triple helix: spring 1999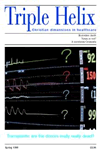 PDF version
(right-click and choose 'save as...' to download)
Editorial: 'Frankenstein foods'
These perhaps obscure Old Testament words carry a contemporary resonance. Public debate about genetically modified food rages. The spectre of 'Frankenstein foods' stalks the popular imagination, the latest episode being fears about how far pollen from trials of GM crops can travel and what it might affect. So did the authors...
Transplants - are the donors really really dead?
David, tell us about yourself. Give us a brief CV. I did my preclinicals at King's College and my clinical training at the old Westminster Hospital. I qualified in 1954 and did housejobs with a view to going into general practice, but doing anaesthesia as an SHO I realised I had...
Fluid infusion and ethics
A good friend of mine, aged 82, whose life had been characterised by humour, independence and good health, suffered a severe stroke. He had few relatives and lived alone. When admitted to hospital he was stuporose and paralysed on one side. During the next six weeks, until he died, there...
Among All Nations 7
Articles in this edition What makes a doctor tick? Editorial comment Medical missions - look to the future John Martin reflects on the second 'Summit Meeting', arguably the biggest gathering of medical missions since the famous 1910 Edinburgh Missionary Conference Mental Health: Cinderella in the Developing World In the first week of December...
Eutychus
Fiendishly clever creams Specialists in London tested 11 Chinese herbal creams used to treat skin conditions and found eight illegally contained dexamethasone. In addition to the potential health risks of this 'alternative medicine' the authors discuss 'the ethical issue arising from giving steroids to patients who, disillusioned with conven-tional treatment, believe...
Bible and Healing (Book Review)
This book is described as 'a medical and theological commentary' on the subject of health and healing. As its author is a graduate in medicine and divinity of the University of Edinburgh he is well placed to tackle such a complex subject. He sets out the dilemmas in his introduction...
Changing World - Unchanging Values (Book Review)
This important book gives insight into the work of the International Christian Medical and Dental Association (ICMDA) and its predecessor, the International Congress of Christian Physicians, over the past 35 years. It is a partial record of the ten world congresses and 50 regional conferences held during this time, containing...
GP Tomorrow (Book Review)
'Family doctors and community nurses in the lead' is a key theme of 'The new NHS - Modern and Dependable'. But what kind of family doctors will they be? Jamie Harrison and Tim van Zwanenberg have brought together a number of authors to seek to answer that question for the...
Matters of Life and Death (Book Review)
How do you respond to the woman whose baby is born with severe abnormalities? What should be done with spare embryos following IVF? Is cloning wrong if the embryo is manipulated to generate cells for medical research? These real questions might affect us professionally or personally, but how do we...
Readers' Letters
What is 'a Christian practice'? Brixham GP Richard Montgomery asks: What is an appropriate understanding of a sense of mission in primary health care? For the last three years I have been a partner in a Christian practice in a small town on the South Devon coast. During this time...
RevieWWWs with Cyberdoc
Following recent controversy, Cyberdoc reviews websites on abortion and asks: is there a difference between being anti-abortion and being pro-life? We cannot mention the internet and abortion with out discussing 'The Nuremberg files'.This web site published 'hit lists' of the names of doctors performing abortions. The story of the offending...