triple helix: autumn 1998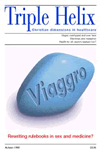 PDF version
(right-click and choose 'save as...' to download)
Editorial: the tip of the iceberg
On 18th October, many different churches and groups of Christians will mark the seventh annual Health Care Sunday. Focusing on the NHS in its 50th anniversary year, the aim above all is to stimulate prayer for such issues as: Christians rising above the low morale and sense of despair in...
Death of a Robot
Surely 'Death of a Robot' is a daft title? Machines, even complicated ones, can hardly be described as living so how can they die? Yet two films most of you will have seen the first time they came out were shown again on television a while back, and they invited...
Viaggro
Rewriting rulebooks in sex and medicine? Viagra is an effective new oral treatment for male erectile dysfunction. Launched by Pfizer in the USA this March it became the fastest selling drug ever. A worldwide black market for performance enhancement as well as for treating impotence developed rapidly, but in September Viagra...
The Urban Melting Pot
The elderly lady in the clinic spoke no English. As a medical student entrusted with describing her symptoms, I was delighted she had brought her granddaughter. 'Don't worry' the teenager said proudly, 'I've come to translate'. I relaxed, confident in the promise of success. 'Where is the pain?' I began....
Aborted bairn
Rejected, before I was born. Flesh to ashes, a new burned babe. Incinerated, denied the privilege of life, to kick and to squeal as a new born babe. I had no defence, a mighty small mite, growing, waiting, waiting in the womb, for freedom and life. Innocent, ignorant of my fate, Coaxed to come early, a strange...
Among All Nations 5
Articles in this edition Reconciliation and Integrity Through Christ Editorial comment What is God's Plan for His World? David Clegg reviews The Old Testament and Christian Mission by Chris Wright. Beyond healing and caring; a Christian approach to disability From his experience in Uganda, Steven Harknett challenges attitudes to disability Cameos of a...
Eutychus
Channel 5 abortion poll Following a televised debate on Kirsty Young's Tell the Truth about whether UK abortion laws should be toughened, 49% of viewers who phoned the poll said 'Yes' and 51% said 'No'. The pro-choice case centred on the absolute autonomous right of the woman over her unborn baby...
Advance Directives or Living Wills (Book Review)
Advance directives are statements made while a person is competent and able to epress their wishes, and are about what they would like done to them and what they would not like done to them in terms of receiving healthcare, to become operative in the event of their becoming incompetent...
John Wimber: his influence and legacy (Book Review)
Before his death last year, John Wimber had arguably more influence on the evangelical church in Britain than any other American this century, with the exception of Billy Graham. This tribute to him by his wife and dozens of well-known Christian leaders right across the denominational spectrum is likely therefore...
Why do Christians find it hard to grieve? (Book Review)
As doctors and nurses, we are often involved with people who are facing death and with their relatives. As Christians, we have a certainty about resurrection and life everlasting. Or is ours the Platonic view of the immortality of the soul, which we take to be Christian teaching? And does...
Windows of Hope (Book Review)
This little book by a Methodist local preacher and counsellor is about hope in the midst of suffering and has an opening message which 'is horrifically clear. There is no hope until we can confront our deadness - the deadness of our lives, the deadness of our society - and...
RevieWWWs with Cyberdoc
ViagraIn direct contrast to the issue of 'not for resuscitation' orders which we reviewed last time, Viagra has a host of web pages. The reason for this is of course obvious - Viagra is big news. The Internet is in many ways a huge newspaper. So with the opposite problem...