Christians in Healthcare Leadership Network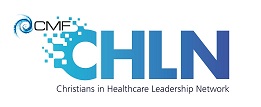 The healthcare leadership arena is an increasingly secular one where leaders can feel isolated in the role or reluctant to step into roles in the first place. CHLN exists to unite and equip Christians in healthcare leadership - both current and future and welcomes non-clinical leaders and managers.
We facilitate a supportive community and sharpening relationships, modelling what it means to be salt and light in challenging circumstances. We support one another to integrate our daily work with a distinctive faith in Jesus, seeking to influence the culture and model servant leadership to the next generation of leaders.
We will achieve this by:
1. Supporting current Christian healthcare leaders and managers through online and in person events and monthly prayer gatherings in cohorts. These forums include role modelling and discussing issues unique to our situation, receiving support, advice and prayer.
2. Mentoring and coaching both current and future Christian healthcare leaders including those who may not traditionally receive such support from other Christian sources and those who seek role models.
3. Producing Biblical, applied resources for those in the field including journal articles, blogs, podcasts, and briefing papers.
4. Addressing the sacred secular divide between work and church, helping people discern their calling in healthcare and encouraging whole life discipleship in all that we do.
For more information. please contact us on volunteer@cmf.org.uk or register using this form
If you are not clinical but would like to join CMF, you can do as an Associate member
Forthcoming events:
Serving not sinking
A day conference for current and aspiring Christian healthcare leaders and managers
Saturday 17th September 2022 - Bookings now open - click here to book tickets!