Gospel centred work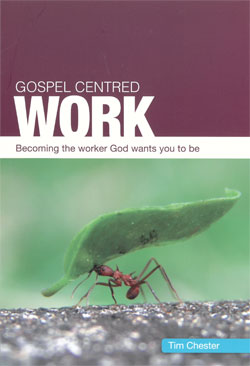 Gospel centred work
Becoming the worker God wants you to be
By: Tim Chester
Published: the good book company
ISBN 9781908762368
Price for CMF student members: £3
Meet Mark. His pulse starts to race as he gets into the office and the day flies by in a haze of activity and excitement. He lives to work.
Meet Mandy. Her heart sinks as she sits down at the workbench, and gets into gear for another long slog. Her mind is fixed on the weekend and the next holiday. She works to live.
Many Christians give little thought to how their faith impacts of affects their working lives. And yet the Gospel is everything and touches all of life.
In Gospel Centred Work, you'll discover how the good news about Jesus transforms the way we think about our work in surprising practical ways.
Use this book on your own or with a group of friends or colleagues to discover how we serve a working God; how Christian belief transforms the central problems we experience with work; and how the workplace can be a place for long-term Gospel witness.
p>
Learn to connect Sunday morning with Monday morning as you think through this interactive workbook.
If you are not a CMF student member, this title is available to buy online from the CMF bookstore