Council
What is the Student Council?
The Student Council (also known as the National Student Committee, NSC) is made up of 15 regional student representatives from across the UK and Ireland, together with a chair and vice-chair.
The purpose of the Council is to advise the CMF student department from a student perspective, and to encourage and enthuse the student links in the medical schools in their regions.
We meet up a few times a year for discussion and prayer, and keep in touch throughout the year for ongoing virtual discussion.
There are either one or two Council members for each region, depending on the number of medical schools in that region. We use the same regions as UCCF, and we encourage Council members to connect with the relevant regional member of UCCF's student council too.
The members for your region can be found here.
What should I do to be on the Student Council?
Be a committed member of CMF
Speak to a Council member in your region (or email nsc@cmf.org.uk)
Fill in this application form: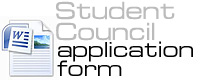 Please send to nsc@cmf.org.uk