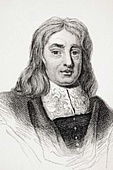 Thomas Sydenham
on Wikipedia
Sydenham International Conference is a 7-day conference in February, based at CMF in London for 25 overseas students and young doctors, from all over the world, but mainly from Europe and Central Asia. It aims to equip and enthuse them for Christian leadership among medical and dental students in their own countries.
It is named after Thomas Sydenham (1624-1689), who was a Christian physician, known as 'the English Hippocrates' and 'the father of English medicine'. He wrote:
"It becomes every man who purposes to give himself to the care of others, seriously to consider the four following things:
First, that he must one day give an account to the Supreme Judge of all the lives entrusted to his care.
Secondly, that all his skill, and knowledge, and energy as they have been given him by God, so they should be exercised for his glory, and the good of mankind, and not for mere gain or ambition.
Thirdly, and not more beautifully than truly, let him reflect that he has undertaken the care of no mean creature, for, in order that he may estimate the value, the greatness of the human race, the only begotten Son of God became himself a man, and thus ennobled it with his divine dignity, and far more than this, died to redeem it.
And fourthly, that the doctor being himself a mortal man, should be diligent and tender in relieving his suffering patients, inasmuch as he himself must one day be a like sufferer."
We believe these principles should shape the Christian practice of medicine today.